Trump fires U.S. Secretary of State Rex Tillerson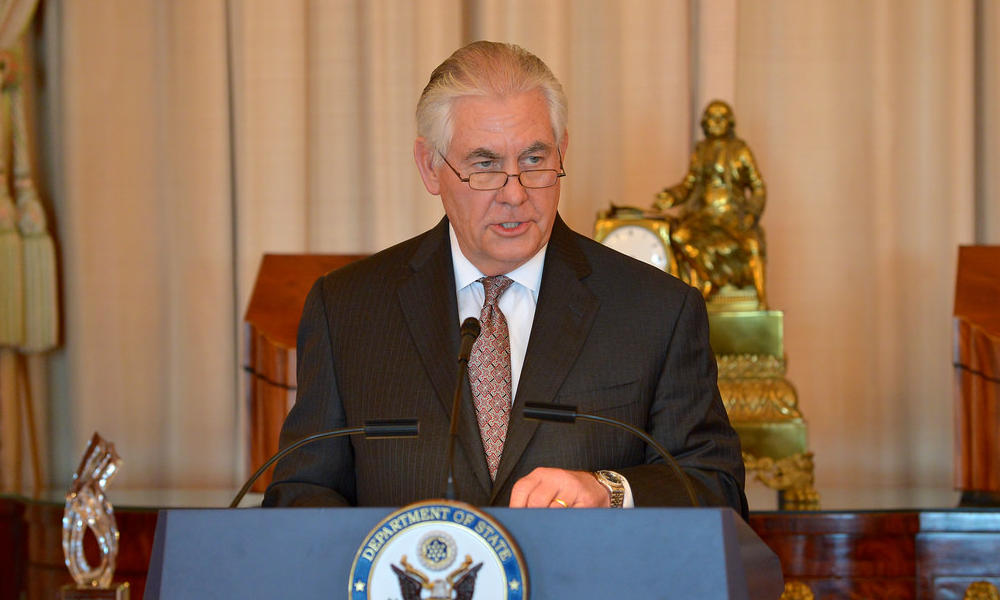 U.S. President Donald Trump has fired U.S. Secretary of State Rex Tillerson after months of speculation about his position, citing disagreements on a number of key issues. CIA Director Mike Pompeo has been nominated to replace him.
Trump told reporters on Tuesday morning that he and Tillerson disagreed on a number of important issues, including the nuclear deal between Iran and world powers. "I actually got along well with Rex, but really it was a different mindset. It was a different thinking," he said.
Trump first announced the firing in a message on his Twitter page on early Tuesday morning, taking virtually everyone by surprise, including those in his own administration. Tillerson found out that he had been fired by reading the president's tweet, according to news reports.
"The Secretary had every intention of staying because of the critical progress made in national security," Under Secretary of State Steve Goldstein said. "The Secretary did not speak to the President this morning and is unaware of the reason, but he is grateful for the opportunity to serve, and still believes strongly that public service is a noble calling and not to be regretted."
A senior White House official, speaking on condition of anonymity, said the president took the decision now to make sure his new team is in place before the possible meeting between Trump and North Korean leader Kim Jong Un, as well as various trade negotiations.
The position of Tillerson, the former CEO of Exxon Mobil, had been subject of months of speculation. He said in October that he had never considered leaving his post, despite a news report that claimed he had openly referred to Trump as a "moron" and had threatened to resign.
Trump had long insisted that news reports which claimed he wanted to fire Tillerson to replace him with Pompeo were "fake news." But on Tuesday, Trump admitted that he and Tillerson had been "talking about this for a long time."
The disagreements between Tillerson and Trump were at times publicly visible. Trump, who has now agreed to meet with Kim Jong Un, said in a tweet on October 1 that Tillerson was "wasting his time" by trying to negotiate with Kim Jong Un.
Trump explained during Tuesday's announcement that he has full confidence in Pompeo. "We're always on the same wavelength, the relationship has been very good and that's what I need as secretary of state," he said, adding that he wishes Tillerson well.
Gina Haspel, the current deputy director of the Central Intelligence Agency, will be nominated to become the agency's new director, Trump said. if confirmed by the U.S. Senate, Haspel will be the first woman to become director of the intelligence agency.