Fire in New York City apartment building kills at least 12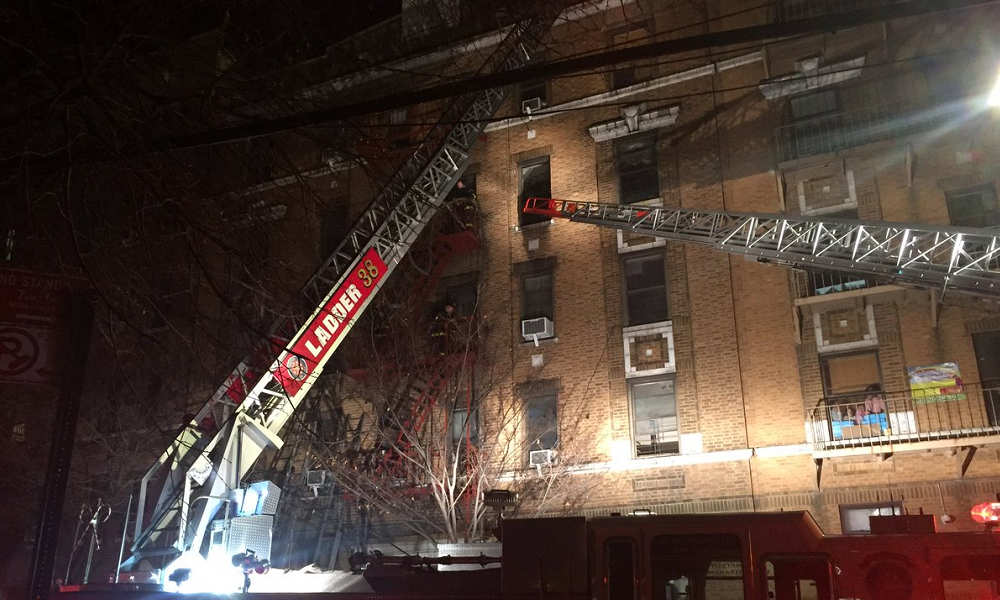 At least 12 people have been killed in a fire at an apartment building in New York City, making it the city's worst building fire in nearly three decades, officials say. The death toll, which includes several children, is expected to rise.
The incident began at about 6:50 p.m. ET on Thursday when a fire broke out on the first floor of a five-story apartment building in the 2300 block of Prospect Avenue, which is just a block away from the Bronx Zoo. The fire quickly spread to the upper floors.
New York City Mayor Bill de Blasio said at a press conference that 12 people were confirmed to have died, including a 1-year-old. "The search of the building continues so we know that, even though it's horrible to report that 12 are dead already, we may lose others as well," the mayor said.
Firefighters were quick to respond and were able to rescue 12 people from the building, De Blasio said. Footage from the scene showed thick plumes of black smoke pouring out of the windows, although flames were not visible from the street.
One witness said he heard a woman screaming, saying they were trapped inside the building.
"We're here at the scene of an unspeakable tragedy in the middle of the holiday season when families are together," De Blasio said. "Tonight in the Bronx, there are families that have been torn apart. This is the worst fire tragedy we have seen in this city in at least a quarter-century."
In addition to those killed, an unknown number of people were taken to area hospitals for treatment. De Blasio said 4 of those injured were reported to be in critical condition, but he added that there were other victims who suffered serious injuries.
There was no immediate word on the cause of Thursday's fire, which happened when temperatures in the city were just 15 degrees Fahrenheit (minus 9 degrees Celsius). About 170 firefighters and other emergency services were called to the scene.
A death toll of 12 makes it one of the worst building fires in the United States in recent years. It is also believed to be the city's deadliest fire since 1990, when a fire was set at the Happy Land club in the Bronx, killing 87 people and injuring several others.