Gunfire heard as North Korean soldier flees to South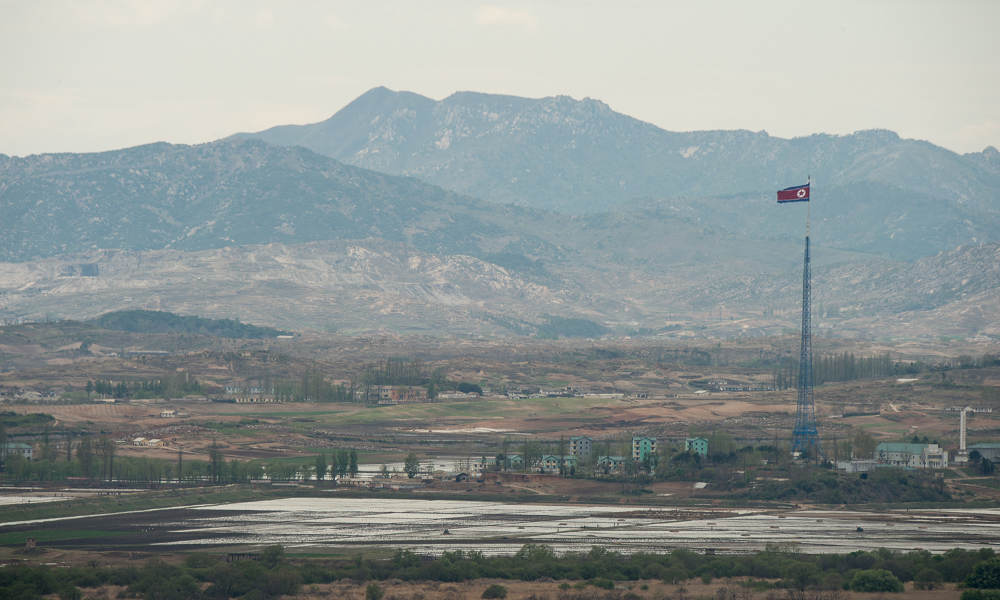 A North Korean soldier has crossed the heavily-guarded demilitarized zone to defect to the South, prompting the exchange of apparent warning shots on both sides of the border, South Korean officials say. Two citizens also defected to the South.
The incident began at about 8:04 a.m. South Korean time on Thursday when a North Korean soldier showed up at a South Korean guard post on the mid-western front. Visibility was only about 100 meters (330 feet) due to thick fog, according to the South Korean military.
"Our military secured his safety, and a questioning will be conducted by related agencies to find out the background of his defection and motive, etc," military spokesman Roh Jae-cheon said, according to the Reuters news agency, adding that the defector is a low-ranking soldier.
More than an hour later, at about 9:30 a.m., North Korean border guards approached the military demarcation line while apparently searching for the defector. South Korean forces responded by firing about 20 warning shots, according to South Korea's Yonhap news agency.
Some 40 minutes later, at around 10:10 a.m., gunfire could be heard on the North Korean side of the border, Yonhap reported. It was not immediately known what prompted the gunfire or what may have caused it, but no bullets were found to have crossed the border.
South Korea's Unification Ministry also reported that two North Korean citizens aboard a small and damaged boat were picked up by maritime police in waters about 100 kilometers (62 miles) north of Dokdo. They expressed their willingness to defect, the ministry said.
There was no immediate word from the North Korean government.
Tensions on the Korean Peninsula have been escalating all year, fueled by North Korea's frequent missile tests and its advancing nuclear weapons program, as well as U.S. military exercises and threatening statements by President Donald Trump.
The latest events come just 5 weeks after a North Korean soldier came under fire as he raced towards the DMZ and ran across the border to defect to the South. The soldier, who suffered multiple gunshot wounds, was seriously injured but survived.
A video which was later released by U.S. and South Korean officials showed that a North Korean soldier briefly crossed the border as he pursued the defector. The actions were in violation of the armistice that ended the Korean War in 1953, according to U.S. officials.