Key Virginia House race ends in tie, to be decided at random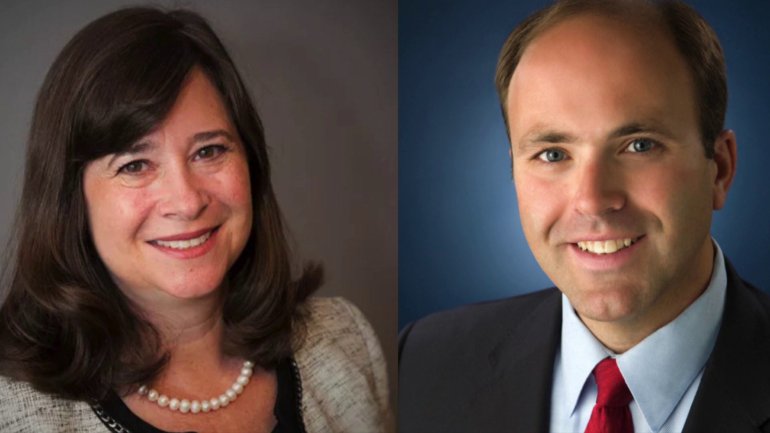 A disputed ballot in a key Virginia House of Delegates contest has been awarded to the Republican candidate, creating a tie with his Democratic opponent. The election, which will determine the balance of power, will be resolved by picking a winner at random.
David Yancey, who has served as a member of the Virginia House of Delegates since 2012, was initially believed to have won the November election by 12 votes, but a recount on Tuesday determined that his Democratic opponent, Shelly Simonds, had won by just 1 vote.
After the recount, an official raised concern about a ballot he had thrown out. The ballot in question had bubbles filled in for both Yancey and Simonds, but a single slash was crossed through Simonds' bubble. All other choices on the ballot were for Republican candidates.
The recount official explained in a letter that, initially, he "felt strongly" that the ballot should count for Yancey. But his colleague disagreed with his assessment and he ultimately decided to reject the ballot after being swayed by his colleague's argument.
"I do not feel like I made the right decision in this case. At the time I did, and I know I signed the Statement of Results, but looking back I don't feel like we should've made that decision on our own," the official said in the letter, adding that he was new to the process. He now believes that he was not qualified to make a decision.
A three-judge panel agreed that the disputed ballot should be counted for Yancey, erasing Simonds' one-vote victory and creating a tie between the two. State law determines that the electoral board will now determine "by lot" which of the two candidates will be declared the winner.
It was not immediately clear when the winner will be chosen.
The Virginia Board of Elections said it will likely choose the winner by putting the names of Yancey and Simonds into separate film canisters. The canisters will then be placed into a glass bowl and shaken up, after which a board member will pull one canister out and announce the winner.
The candidate who loses would still be allowed to request a second recount.
Marc Elias, an attorney for the Virginia House Democratic Caucus, said the party will assess its legal options. "Today's decision by the court was wrong, and Delegate-elect Shelly Simonds should have been certified the winner," he said in a statement.
The election in the 94th district is a crucial one. The Republican Party went into the election with a 66 to 34 majority in the Virginia House, but Democrats surprisingly succeeded in picking up 15 seats. The result of the 94th district will either keep the Republican majority or force a rare power-sharing agreement between Democrats and Republicans.