Senior NTSB official Paul Schuda killed in Indiana plane crash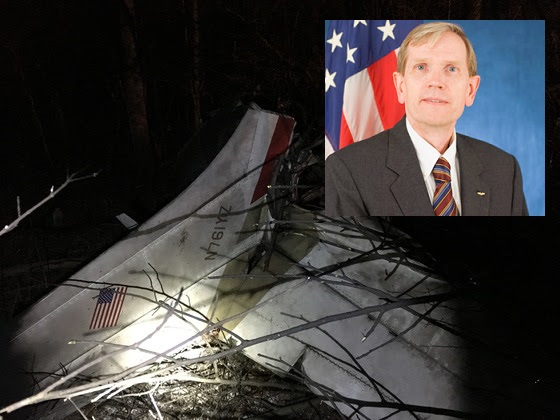 The head of the training center at the National Transportation Safety Board (NTSB) was killed over the weekend when the plane he was on went down in Indiana, the Civil Air Patrol confirmed on Monday. Two others were also killed.
The accident happened on Saturday evening when the single-engine aircraft, a Cessna 210, went down in a heavily wooded area behind a home near the town of Oldenburg, about 40 miles (65 kilometers) northwest of Cincinnati. The crash was reported at 9:10 p.m. ET.
Indiana State Police said three people were killed in the accident, as well as one of two dogs which were aboard the aircraft. The second dog survived the crash and showed up at a nearby residence, after which the dog was taken to a local veterinarian to be treated.
The Civil Air Patrol, which is the civilian auxiliary of the U.S. Air Force, said in a statement released on Monday that Paul Schuda, the head of NTSB's Training Center, was one of those killed. The pilot, Major Louis R. Cantilena, and his daughter were also killed in the crash.
The NTSB Training Center, which is also known as the NTSB Academy, is located in Ashburn, Virginia, and trains NTSB investigators to improve their practice of accident investigation techniques. It also serves others from the transportation community.
Schuda studied the crash of Trans World Airlines (TWA) Flight 800, which crashed into the Atlantic Ocean off New York in July 1996, killing all 230 people on board. He gave lectures about the investigation and the plane's fuselage was located at the training center, just outside Schuda's office.
In addition to his work at the NTSB, Schuda was also an evaluation officer and the assistant director of operations at the National Capital Wing of the Civil Air Patrol. He previously served as the Congressional Squadron's chief of staff from 2006 to 2012 and as the deputy director for the U.S. Environmental Protection Agency's Policy and Special Projects staff.
Data from flight tracking services showed that the plane had departed on early Saturday morning and flew from Frederick, Maryland, to Kansas City, Missouri. The aircraft was returning to Frederick when it began losing altitude near Oldenburg at 8:52 p.m. ET. It disappeared from radar a short time later.
The cause of Saturday's accident was not immediately known. Both the Federal Aviation Administration (FAA) and the NTSB are investigating what happened.