White House Communications Director Hope Hicks to resign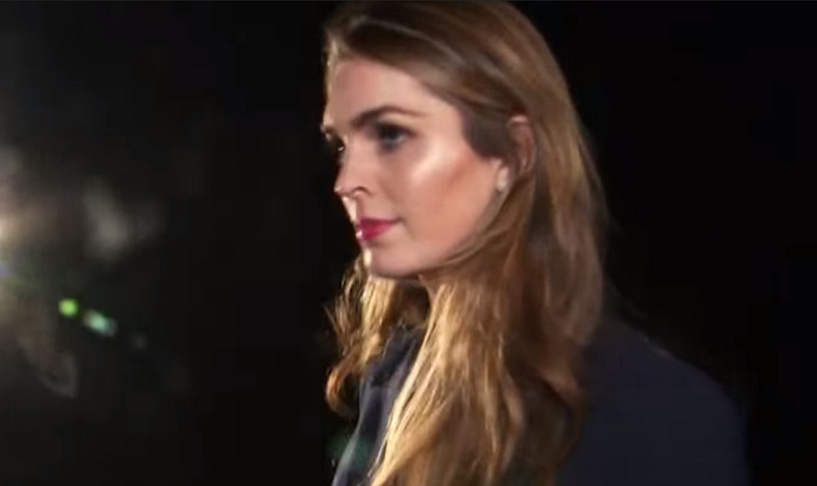 White House Communications Director Hope Hicks, who is one of President Donald Trump's longest-serving and closest aides, announced on Wednesday that she plans to resign in the next few weeks.
Trump said Hicks, 29, would be leaving soon to pursue other opportunities outside the White House. Her colleagues told the New York Times that Hicks had been thinking about leaving for months and felt she had accomplished what she could in her current position.
"There are no words to adequately express my gratitude to President Trump. I wish the President and his administration the very best as he continues to lead our country," Hicks said. An exact date for her departure was not immediately known, but it is expected to be in the "next few weeks."
Trump praised Hicks for her work over the past three years.
"She is as smart and thoughtful as they come, a truly great person," the president said. "I will miss having her by my side but when she approached me about pursuing other opportunities, I totally understood. I am sure we will work together again in the future."
Hicks was introduced to the Trump family in 2012 while working for a public relations firm which provided services for Trump's daughter Ivanka and her fashion line. She joined The Trump Organization in August 2014 and went on to work for Donald Trump a few months later.
Trump chose Hicks, a stranger to politics, to be his spokeswoman when he announced his campaign for president in June 2015. After he won the election, he named Hicks to be the White House Director of Strategic Communications.
Hicks was promoted to White House Communications Director on August 16, succeeding Anthony Scaramucci who was fired after just 10 days. It's unknown whether Hicks will continue her career in public relations after she leaves the White House.
Wednesday's announcement came just a day after Hicks was interviewed for 9 hours by a U.S. House committee looking into Russia's alleged interference in the 2016 presidential election. Hicks declined to answer questions about her work at the White House, but admitted that she had told "white lies" for Trump on occasion, but not about Russia or anything substantive.
Hicks also received media attention earlier this month after it was reported that she was in a romantic relationship with White House Staff Secretary Rob Porter, who resigned shortly afterwards when his two ex-wives accused him of domestic abuse.
Hicks has also been praised by others in the White House, including Chief of Staff John Kelly, who described her as "strategic, poised and wise beyond her years."
"She became a trusted adviser and counselor and did a tremendous job overseeing the communications for the President's agenda including the passage of historic tax reform," he said. "She has served her country with great distinction. To say that she will be missed, is an understatement."