Fire breaks out at shopping mall in Siberia, killing at least 48 people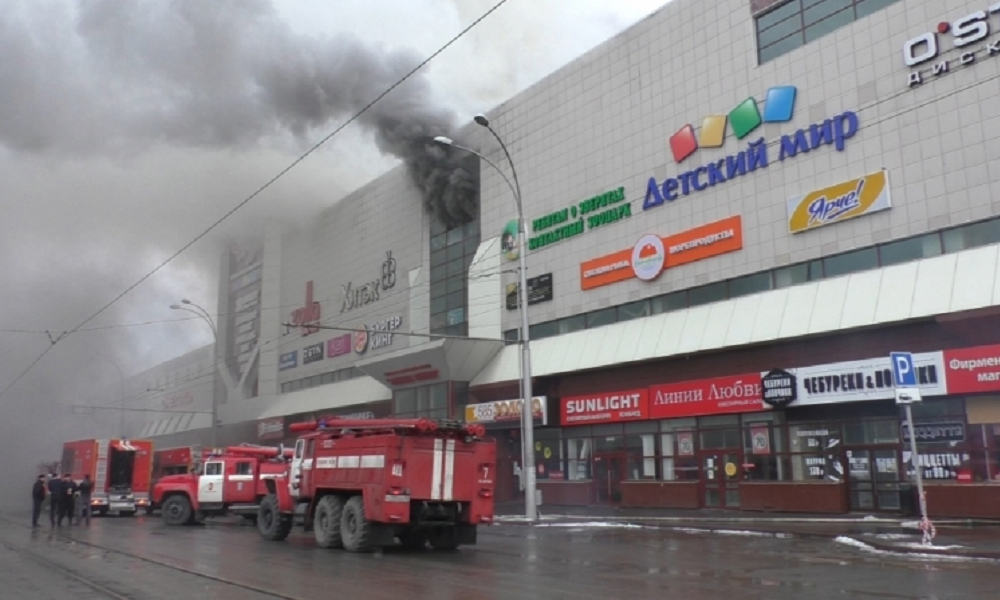 A fire has broken out at a shopping mall in the Russian city of Kemerovo, killing at least 48 people and leaving more than a dozen others missing, local officials say. Many of the victims are believed to be children.
The fire, which began at about 5 p.m. local time on Sunday, is believed to have started on the fourth floor of the Winter Cherry mall, which is home to a three-screen movie theater, a skating rink, and a play area for children.
Thick plumes of black smoke billowed from the complex and could be seen across the city. One man was seen jumping from a window on the fourth floor in an attempt to escape the blaze, but it was not immediately known if he survived the fall.
More than 660 rescue workers responded to the site and firefighters worked for hours to extinguish the blaze. High temperatures and the building's instability are hampering the search and rescue operation, according to the emergencies ministry.
Local authorities said on early Monday that 48 people, including dozens of children, were confirmed to have died, but the death toll is expected to rise as 16 others remain unaccounted-for. 47 people have been treated for injuries.
Most of the victims are believed to be children, some of whom posted to social media while they were trapped inside the burning building. "We're on fire .. goodbye perhaps," a 13-year-old girl who is now missing wrote online.
One official said that 41 children between the ages of 2 and 17 are either dead or missing. Hopes of finding survivors began to fade on Monday morning as firefighters were unable to locate anyone alive.
The cause of Sunday's fire was not immediately known.