Last male of the northern white rhino dies in Kenya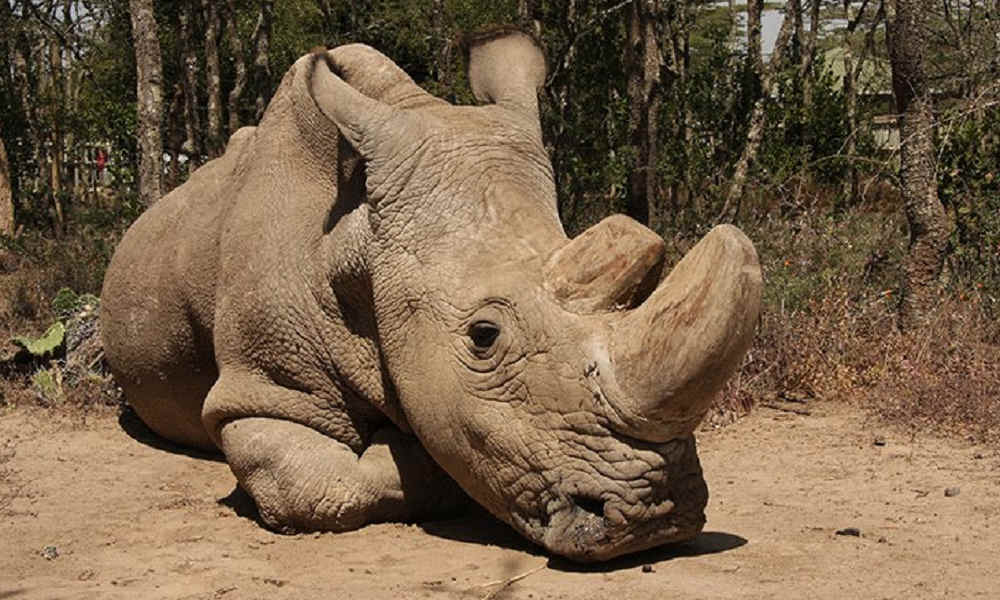 Sudan, the last male member of the northern white rhino, has died at a sanctuary in Kenya, officials say, pushing the species closer to extinction as only two females are still alive.
The Ol Pejeta Conservancy in central Kenya said in a statement on Tuesday morning that Sudan died on Monday. He had been suffering from age-related health issues and from a series of infections.
Although Sudan seemed to be making some progress earlier this month, his condition worsened significantly over the past few days and he was unable to stand up. To end his suffering, his veterinary team decided to euthanize him.
Sudan, who was 45, was one of the world's last three remaining northern white rhinoceros. He is survived by his daughter Najin (28 or 29) and granddaughter Fatu (17 or 18), making them the last two surviving members of their species. Both live at Ol Pejeta.
"At the age of 45 Sudan was a very old man, well over 100 years old in human equivalent years," the Helping Rhinos charity said in a statement.
Efforts to save the northern white rhino have all failed, in part because Sudan's sperm count was too low, but his carers have collected genetic material for future attempts at reproduction. Veterinarians confirmed in November 2014 that both Najin and Fatu are unable to breed.
The number of all rhinos combined is down to 29,000 from 500,000 at the beginning of the 20th century, according to the charity Save the Rhino. The downward figure is driven largely by demand from Asia, where ground-up rhino horns are used for medicine markets.
The northern white rhino, along with the southern white rhino, are subspecies of the white rhinoceros, which is the least threatened rhino with a population of more than 20,000. The two subspecies look similar to the untrained eye but have small differences.
The northern white rhino was discovered by scientists in 1907 and once roamed in Uganda, Chad, Sudan, the Central African Republic, and the Democratic Republic of Congo. Its population was estimated at 2,000 in 1960, but this number fell sharply over the next few years.
By 1970, the population of the northern white rhino had fallen to 700, according to Save the Rhino. The number dropped to 350 in 1981 and to a mere 15 in 1984, when all of the survivors were living at Garamba National Park in the Democratic Republic of the Congo.
Efforts to save the species were initially successful, raising the population to 31, but an outbreak of civil war led to a further decline. Four rhinos, including Sudan, were moved to Ol Pejeta in 2009 to try and promote breeding, but the efforts have failed.
Some conservationists now hope to use IVF in an effort to save the species, but critics point out that it has little chance to succeed as IVF has never been successfully used in rhino conservation. Ol Pejeta is asking for donations to support IVF research.