Woman opens fire at YouTube headquarters in California, injuring 4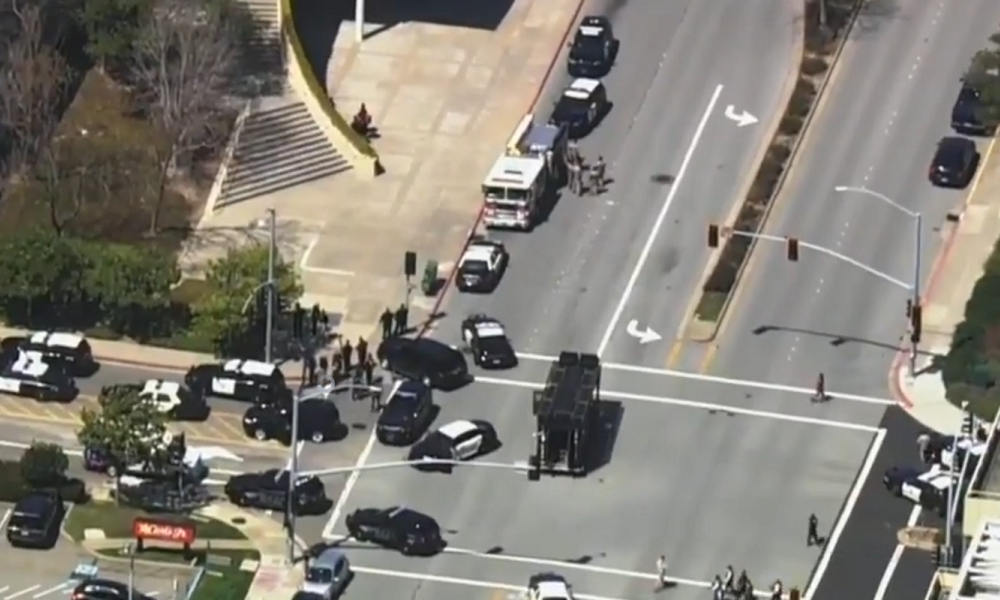 A woman has opened fire at the YouTube headquarters in California, injuring four people before killing herself, officials and witnesses say. She had previously accused the website of censoring her videos.
The incident began at 12:46 p.m. PT on Tuesday when police were called to reports of an active shooter at the YouTube headquarters, which is located in San Bruno, about 10 miles (16 kilometers) south of San Francisco.
Employees described a chaotic scene as people barricaded themselves inside offices or fled from the building, where roughly 1,700 people are employed. Several witnesses said they had heard at least 10 to 20 gunshots.
Police Chief Ed Barberini said officers arrived on the scene within two minutes and found a gunshot victim near the front of the building. A woman – later identified as the suspect – was found a short time later and died at the scene from a self-inflicted gunshot wound.
Two other gunshot victims were found at an adjacent business after they fled the YouTube headquarters, local officials said. All three gunshot victims were rushed to San Francisco General Hospital for treatment.
A spokesperson for the hospital confirmed that a 36-year-old man is in critical condition and a 32-year-old woman is in serious condition. The third victim, a 27-year-old woman, is in fair condition. A fourth victim suffered injuries while fleeing.
The suspect was identified on Tuesday night as 39-year-old Nasim Aghdam from Riverside County in Southern California. On the internet, she used the name Nasime Sabz and indicated that she was born in Iran.
Aghdam had previously accused YouTube of censorship, claiming that her videos were being "filtered and demonetized." Messages were left on her YouTube channel, Facebook page and her website in which she attacked the company.
"Dictatorship exists in all countries but with different tactics! They only care for personal short term profits & do anything to reach their goals even by fooling simple-minded people," she wrote on her website.
Aghdam added: "There is no free speech in real world & you will be suppressed for telling the truth that is not supported by the system. Videos of targeted users are filtered & merely relegated, so that people can hardly see their videos!"
Ismail Aghdam, the woman's father, told The Mercury News that she had been missing for nearly 3 days until officers found her in Mountain View on early Tuesday morning. He told the newspaper that he had warned police that his daughter might be going to YouTube because she "hated" the company.
Earlier in the day, investigators said the shooting was being treated as an act of domestic violence, noting that one of the victims may have been her boyfriend. It was later determined that she had no relationship to any of the victims, sources told KGO-TV.
Aghdam was also an activist for animal rights group PETA and she participated in a number of protests. "For me animal rights equals human rights. Just because they can't talk doesn't mean we should take advantage of them," she told the Los Angeles Times in 2009.
Other details were not immediately known, but Google – which owns YouTube – said in a statement that it was working with local authorities.
"It's with great sadness that I tell you .. four people were injured in this horrific act of violence," Google CEO Sundar Pichai said in a message to staff. "We're doing everything we can to support them and their families at this time."
Pichai added: "I'm grateful to everyone inside and outside the company for the outpouring of support and best wishes. I am especially thankful to the first responders and our own security team who acted so quickly to keep people safe."
President Donald Trump said he received a briefing about the shooting. "Our thoughts and prayers are with everybody involved. Thank you to our phenomenal Law Enforcement Officers and First Responders that are currently on the scene," he said in a tweet.
[rumble]https://rumble.com/embed/ua67e.v23dfd/[/rumble]