Trump greets 3 Americans freed by North Korea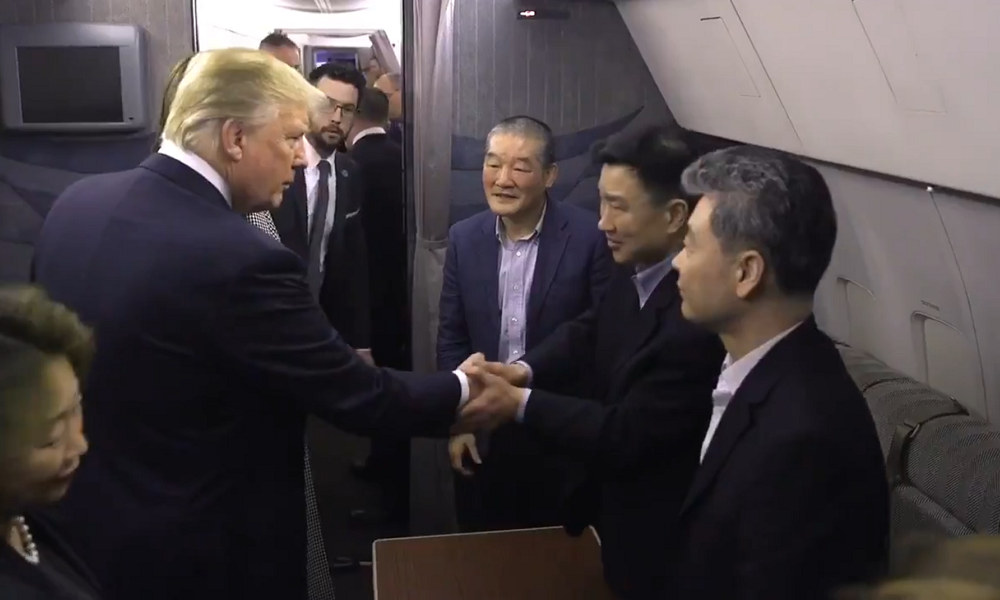 Three American citizens who were held prisoner by North Korea have arrived back in the United States, where they were welcomed by U.S. President Donald Trump and Vice President Mike Pence.
The former prisoners, who were released after U.S. Secretary of State Mike Pompeo traveled to North Korea, landed at Andrews Air Force Base near Washington, D.C. at 2:42 a.m. ET on Thursday.
Accompanied by his wife, President Trump walked onto the steps of the medical plane and greeted the men by shaking their hands. The former prisoners waved their hands in joy as they walked away from the plane.
All three men appeared to be in relatively good health.
"It's like a dream we are very, very happy," Kim Dong Chul said through a translator. He said he had to do a lot of labor while being held in North Korea, but added that he received medical treatment when he got sick.
Trump said it was a "great honor" to welcome the men home and thanked North Korean leader Kim Jong Un. He explained that the men were expected to be released after Trump's meeting with Kim, but the North Korean leader decided to release them earlier.
Trump and Kim are scheduled to meet in Singapore on June 12.
Those released are Kim Hak-Song, who was arrested in May 2017 for alleged "hostile acts," Kim Sang-duk, who was arrested in April 2017 on similar charges, and Kim Dong Chul, who was arrested in October 2015 and sentenced to 10 years on espionage charges.