Man crashes pickup truck into Dallas TV station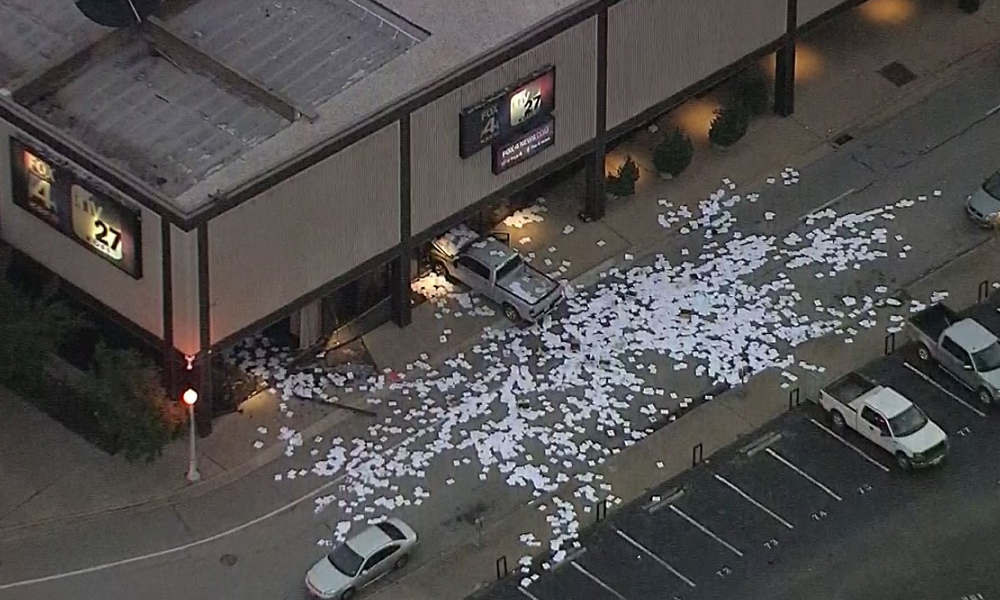 A man has intentionally crashed his pickup truck into the Fox 4 studio in Dallas, but no one was injured, officials say. The suspect, who was ranting about "high treason," was taken into custody.
The attack happened at about 6 a.m. CT on Wednesday when the pickup truck crashed through the window of an office. The vehicle then backed out and returned, crashing into the building a second time.
Reporters who witnessed the incident said the man jumped out of the vehicle and started ranting about "high treason." He also mentioned a sheriff's office and was upset about an officer-involved shooting.
While police and other emergency services responded to the scene, the man was seen taking flyers from the back of the truck and held them against a window for people to see. Scores of papers were scattered across the scene.
The man, whose identity was not immediately known, was taken into custody when police arrived. A bag that he left in front of the building was examined by the bomb squad, but nothing hazardous was found.
Many employees at the station were evacuated for hours while police investigated the bag. Some people were able to stay inside, allowing them to continue broadcasting from another part of the building.
"The officers who made contact with the suspect said he was talking and rambling, but did not make any sense," police spokeswoman Debra Webb said. "It does not appear the suspect was directly targeting the media in this incident."
Webb said the suspect was taken to Parkland Hospital for evaluation and later transferred to the Lew Sterrett Jail. "We expect the suspect to be charged for his involvement in the crash, but this incident remains under investigation and his charges have yet to be determined," she said.