Strong quake, tsunami kill at least 384 people in Indonesia's Sulawesi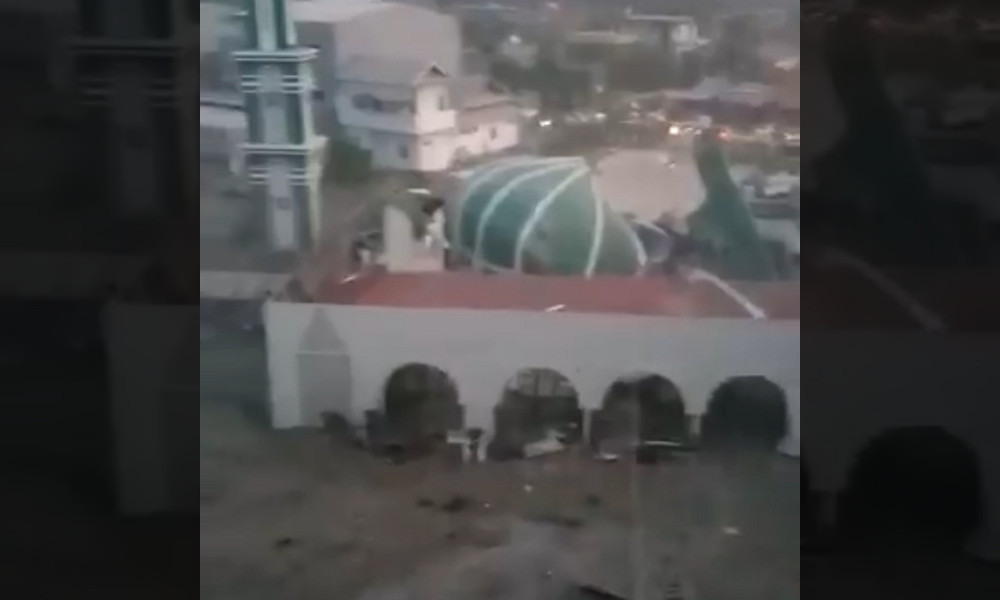 A powerful earthquake with a preliminary magnitude of 7.5 has struck the Indonesian island of Sulawesi, causing a tsunami that hit nearby coastlines, local officials say. At least 384 people were killed.
The earthquake, which struck at 5:02 p.m. on Friday, was centered on land about 56 kilometers (35 miles) northeast of Donggala, or 80 kilometers (50 miles) north of Palu. It struck at a depth of 10 kilometers (6.2 miles), making it a very shallow earthquake.
The U.S. Geological Survey (USGS) put the preliminary magnitude at 7.5. It came just 3 hours after a 6.1-magnitude earthquake hit the same area, killing at least one person and injuring several others.
Footage shared by witnesses showed a tsunami hitting the coast at the Bioskop Palu Grand Mall in Palu, but the extent of the damage and casualties was not immediately known. A nearby mosque was shown to have partially collapsed.
Sutopo Purwo Nugroho, a spokesman for Indonesia's National Disaster Mitigation Agency. confirmed that several communities had been hit by a tsunami and a large bridge in Palu collapsed. Information is limited because Palu and Donggala are completely without power.
At least 384 people were confirmed dead in Palu by 3 p.m. on Saturday, Sutopo said, adding that it's still unknown how many people were killed in Donggala. Hundreds more are being treated at local hospitals.
Computer models from the USGS estimate that up to 23 million people could have felt Friday's earthquake, including 920,000 people who may have experienced "strong" to "violent" shaking. It said Donggala experienced the worst shaking, followed by Palu, Sigi Biromaru, and Parigi.
"Overall, the population in this region resides in structures that are vulnerable to earthquake shaking, though resistant structures exist," the USGS said in its assessment. It added that damage and casualties are likely but should be relatively localized.
Indonesia is on the so-called 'Pacific Ring of Fire', an arc of fault lines circling the Pacific Basin which is prone to frequent and large earthquakes.
A 9.1-magnitude earthquake, one of the most powerful earthquakes ever recorded, struck off the west coast of Sumatra in December 2004, unleashing a massive tsunami that struck scores of countries and killed nearly 230,000 people.
More recently, a series of strong earthquakes struck the Indonesian island of Lombok in July and August, killing nearly 600 people and injuring more than 1,300 others. Scores of buildings were destroyed.
BREAKING: Video shows tsunami hitting the Indonesian city of Palu pic.twitter.com/XCXXHZwAtu

— BNO News (@BNONews) September 28, 2018
Telah kami konfirmasi bahwa ini kejadiannya di Palu Barat, sekitar Mall Palu sesaat setelah gempa besar 7,7 SR petang tadi.

semoga saudara kita di Palu, Donggala dan sekitarnya dilindungi dan diberi keselamatan…
.
.#gempa #gempabumi #palu #sulteng #donggala pic.twitter.com/smc1NK3vyU

— IG : Daeng Info (@Daeng_Info) September 28, 2018
Rumah dan bangunan banyak yang mengalami kerusakan akibat gempa 7,7 SR di Kota Palu dan Donggala Sulawesi Tengah. Berdasarkan analisis gempa dirasakan intensitas gempa VI-VII MMI (keras hingga sangat keras). Biasanya bangunan banyak yang roboh. Evakuasi masih dilakukan. pic.twitter.com/7yCf2sMAwL

— Sutopo Purwo Nugroho (@Sutopo_PN) September 28, 2018