YouTube goes down in worldwide outage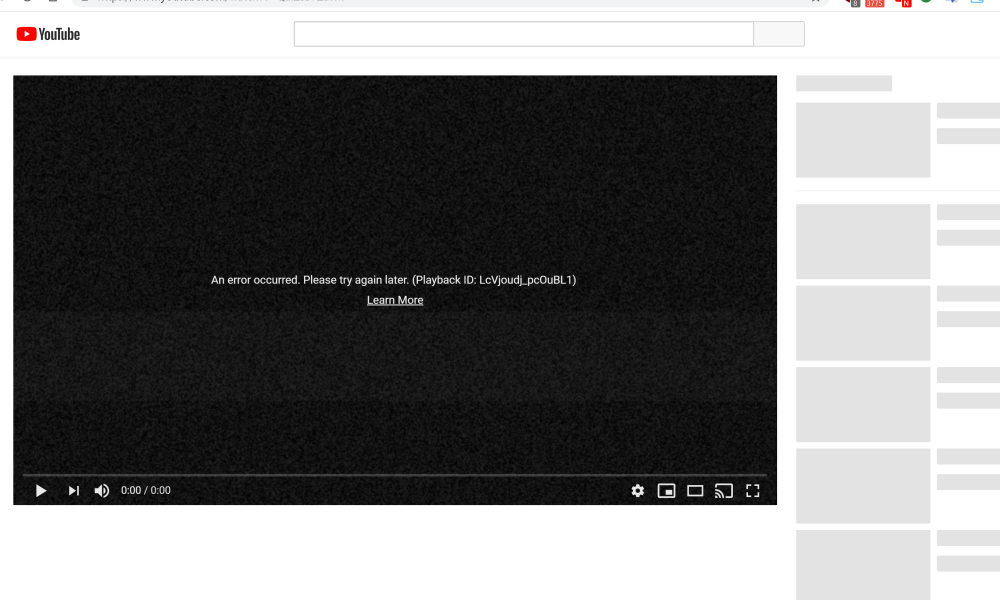 YouTube, the second-most visited website in the world, went down for nearly 90 minutes on Tuesday in what appeared to be a global outage. It was the worst interruption the video-sharing platform has suffered in recent years.
The issue began at 9:10 p.m. ET on Tuesday when videos began showing a message that said: "An error occurred. Please try again later." People who went to YouTube's homepage saw the website's template, but no content.
It was not immediately known what caused Tuesday's problem, but it appeared to be affecting all regions of the world, with reports coming in from North America, South America, Europe, Asia, Australia, and New Zealand.
"Thanks for your reports about YouTube, YouTube TV and YouTube Music access issues," YouTube said in a statement. "We're working on resolving this and will let you know once fixed. We apologize for any inconvenience this may cause and will keep you updated."
The outage was resolved by 10:45 p.m. ET.
News websites were overwhelmed with traffic as people tried to find more information about the outage. BNO News and websites that detect outages went offline, and #YouTubeDOWN was trending on Twitter within minutes.
YouTube was created in February 2005 by three former PayPal employees who were looking for a way to share a video with each other. The site's official launch was in November 2005 and in less than a year, about 65,000 videos were being uploaded on a daily basis.
Google acquired YouTube in October 2006 for $1.65 billion.
Today, YouTube is the second-most visited website in the world with billions of monthly visitors and more than 1.9 billion logged-in users. With the exception of China and North Korea, the website is available around the world in 80 different languages.