Twitter suspends fake account attributed to Putin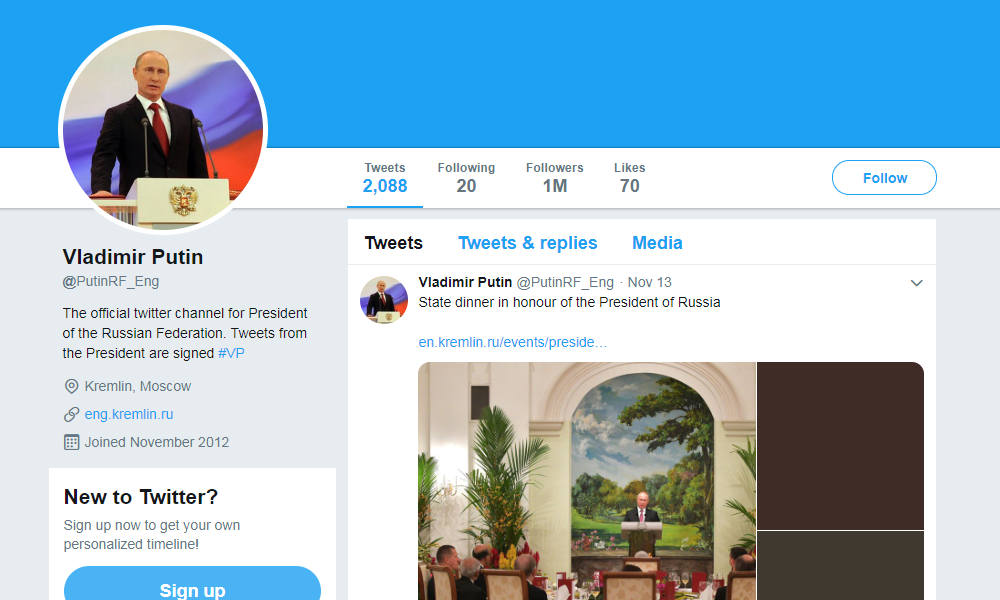 A Twitter account that many presumed was run by Russian President Vladimir Putin has been suspended after more than 6 years, during which it gathered more than one million followers.
@PutinRF_Eng claimed to be Putin's "official" Twitter account and mainly linked to press releases from the Kremlin, but it was never confirmed to be authentic. The Kremlin's verified account is @KremlinRussia_E.
"We suspended @PutinRF_Eng for impersonation based on a valid report we received from Russian officials," Twitter said in a brief statement. Other details were not immediately known.
Many assumed that the account was authentic and it was often referred to by journalists and media outlets. Politicians also referred to @PutinRF_Eng, including Indian Prime Minister Narendra Modi, Kosovo President Hashim Thaçi, and U.S. Senator Chuck Schumer.
Although the Twitter account was not affiliated with Putin or the Kremlin, it does not appear to have distributed false information.
A second account, @PutinRF, also claims to be run by Putin and shares similar updates in Russian. It has gathered more than 2.2 million followers in 7 years, but it's unclear if the account is authentic.
In #Paris, I met President @PutinRF_Eng, focusing on dialogue for the normalization of relations btwn Kosovo & Serbia for comprehensive, binding agreement. On this topic, President Putin was clear: "If you (#Kosovo & #Serbia) achieve a peaceful agreement, Russia will support it". pic.twitter.com/TAXILAXutD

— Hashim Thaçi (@HashimThaciRKS) November 12, 2018