Volcano triggers tsunami in western Indonesia, killing at least 281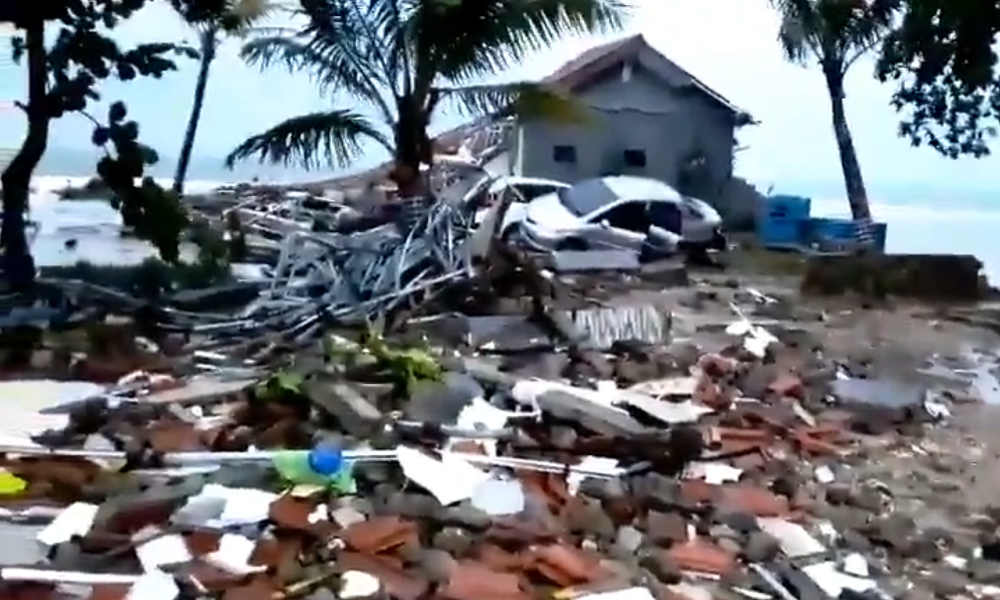 A tsunami triggered by a volcano has hit coastlines along the Sunda Strait in western Indonesia, killing at least 281 people and injuring more than 1,000 others, local officials say. The death toll is expected to rise.
It happened late on Saturday when an eruption intensified at Mount Anak Krakatau, which is located in the Sunda Strait between Java and Sumatra. It's believed to have caused an underwater landslide, which in turn triggered a tsunami.
At least 281 people were killed, including 164 in Pandeglang, 60 in South Lampung, and 11 in Serang, according to Indonesia's National Disaster Mitigation Agency. A spokesman for the agency, Sutopo Purwo Nugroho, said the death toll is expected to rise because rescue work is ongoing
"The tsunami was not triggered by an earthquake," he said. "It's possible that it was triggered by an underwater landslide due to the eruption of Mount Anak Krakatau. At the same time there was high tide because of the full moon. So there was a combination of natural phenomena, tsunami and high tide."
Residents and authorities were caught off guard by the sudden tsunami, which happened at about 9:30 p.m. local time. Nugroho initially denied that a tsunami had taken place, saying instead that the flooding was caused by high tide. He later apologized.
It happened as hundreds of people were at an event on Tanjung Lesung beach in Pandeglang. Many of those attending were employees of state utility company PLN and civil servants from the Youth and Sports Ministry, as well as their families.
The Indonesian pop band Seventeen was performing when the tsunami hit the venue, pushing the stage into the audience. PLN said at least 14 people were killed at Tanjung Lesung, but 89 others are still unaccounted-for.
In some of the worst affected areas, buildings near the coast were completely destroyed by the tsunami. The National Disaster Mitigation Agency said at least 430 residential homes and 9 hotels were seriously damaged, but those numbers are expected to rise.
Øystein Lund Andersen, from Norway, was on the coast of western Java when the tsunami hit.
"I was myself at the beach photographing the well-known volcano, Anak Krakatau, when I suddenly saw a big wave," Andersen said. He said the area was flooded and he and his family were able to flee to higher ground.
NEW: Video shows a tsunami crashing into a venue in Indonesia where the band Seventeen was performing https://t.co/4P9zDCRkKC pic.twitter.com/q9RYOaPTt8

— BNO News (@BNONews) December 23, 2018
Dampak gelombang tinggi, air laut masuk ke Grand Elty Krakatoa, Kalianda Lampung Selatan, Sabtu (22/12) malam. Warga pesisir pun mengungsi ke tempat yang lebih tinggi mengindari terjadinya bencana. #iNews #Lampung #Tsunami pic.twitter.com/HbTIs7ylFS

— iNews (@OfficialiNewsTV) December 23, 2018
Daylight reveals some of the devastation after the tsunami in western Indonesia https://t.co/4P9zDCRkKC pic.twitter.com/8N5YPwmLlU

— BNO News (@BNONews) December 23, 2018
Data sementara dampak tsunami di Pantai di Kab Pandeglang, Serang dan Lampung Selatan hingga 23/12/2018 pukul 04.30 WIB: tercatat 20 orang meninggal dunia, 165 orang luka-luka, 2 orang hilang dan puluhan bangunan rusak. Data korban kemungkinan masih akan terus bertambah. pic.twitter.com/6f7buuoD5Y

— Sutopo Purwo Nugroho (@Sutopo_PN) December 22, 2018