Twitter glitch changes Melania Trump's whale photo into giraffe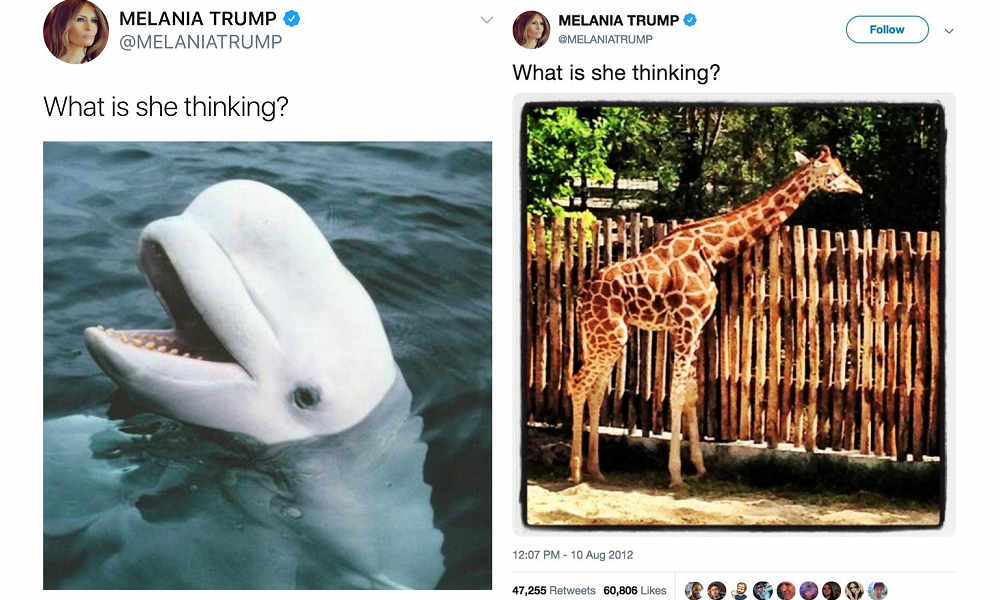 UPDATE: The tweet has been restored and it now showing the original photo.
A photo of a beluga whale that was tweeted by U.S. First Lady Melania Trump more than 6 years ago is now showing a giraffe, and it appears to be related to a glitch that was previously reported.
It's unclear when the photo was changed, but a Twitter user first noticed it on Saturday night and others began tweeting about it shortly after. Twitter does not allow tweets or photos to be edited.
The tweet – which is captioned with "What is she thinking?" – showed a photo of a giraffe on early Sunday morning. Some people said they could still see the original photo.
Twitter did not immediately respond to a request for comment, but a similar issue was reported in September, when users noticed that some tweets which were sent in 2012 were displaying different photos.
"There is an internal issue causing certain Twitter image IDs to be switched with others," a Titter spokesperson said in September. "We believe this only affects some images shared in 2012. We are working on a fix to correct these images and ID issues."
Trump posted the photo of the beluga whale, which is sometimes mistaken for a dolphin, back in August 2012. It is still often replied to and has been retweeted more than 47,000 times.
What is she thinking? pic.twitter.com/rFufrgMb

— MELANIA TRUMP (@MELANIATRUMP) August 10, 2012
Same Melania tweet on my iPhone & my laptop. It renders on mobile as the beluga whale (not dolphin) & on the right is the giraffe. Did she try to activate the Winter Soldier or something? Here's the tweet: https://t.co/SFL2FZomC3 pic.twitter.com/ppmxkwZcdx

— Gerry Duggan (@GerryDuggan) December 30, 2018