2 dead as strong earthquake hits central Chile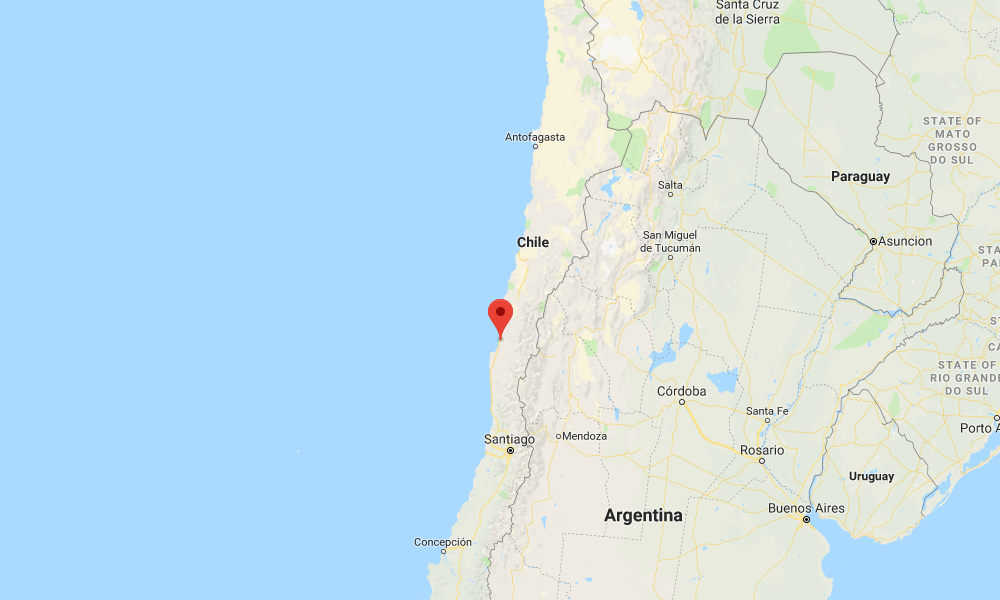 A strong earthquake measuring 6.7 has struck near Coquimbo in central Chile, causing damage and leaving more than 200,000 customers without power, officials say. At least 2 people died of heart attacks.
The earthquake, which struck at 10:32 p.m. local time on Saturday, was centered in the ocean, about 15 kilometers (9.3 miles) southwest of Coquimbo, a port city in the region that carries the same name.
The U.S. Geological Survey (USGS) put the magnitude at 6.7 and said it struck about 53 kilometers (33 miles) below the seabed, making it a relatively shallow earthquake.
A tsunami warning was issued for the Coquimbo Region and footage on social media showed scores of people moving further inland. The warning was canceled about 15 minutes later.
Damage was visible at a number of locations, but there were no reports of serious damage. Two people died after suffering heart attacks during the earthquake, according to officials.
Ricardo Toro, the director of the National Office of Emergencies (ONEMI), said more than 220,000 people were without power in the immediate aftermath of the earthquake. Power was partially restored by midnight.
Chile is on the so-called 'Pacific Ring of Fire,' an arc of fault lines circling the Pacific Basin which are prone to frequent and large earthquakes. Volcanic eruptions also occur frequently.
A 9.5-magnitude earthquake struck off the coast of central Chile on May 22, 1960, making it the largest earthquake ever instrumentally recorded. Thousands of people were killed.
Así se desarrolló la evacuación preventiva en Coquimbo, tras el fuerte sismo. Envía tu mensaje en el +56977727572 o usando #AhoraEnADN https://t.co/fnF9pb2aKm pic.twitter.com/dHkA0BwngM

— Radio ADN (@adnradiochile) January 20, 2019
From 19 floor strong 6.9 #earthquake #Terremoto #Temblor near Santiago de #chile right now ? pic.twitter.com/QVN08k6tZu

— Teacher From PR ???? (@MaestroDEPR) January 20, 2019
#AhoraNoticias #temblor #laserena #coquimbo #tongoy #CHVNoticias #24horas #t13 #cooperativa pic.twitter.com/lRRX7xopIA

— Felipe! (@KallichoreKSC) January 20, 2019
así se vivió en #Coquimbo #Combarbalá #Sismo @ahoranoticiasAN @CHVNoticias @T13 @24HorasTVN pic.twitter.com/mX1eHKn92E

— Zufan (@Zufanmc) January 20, 2019