Meteorite falls in western Cuba, debris found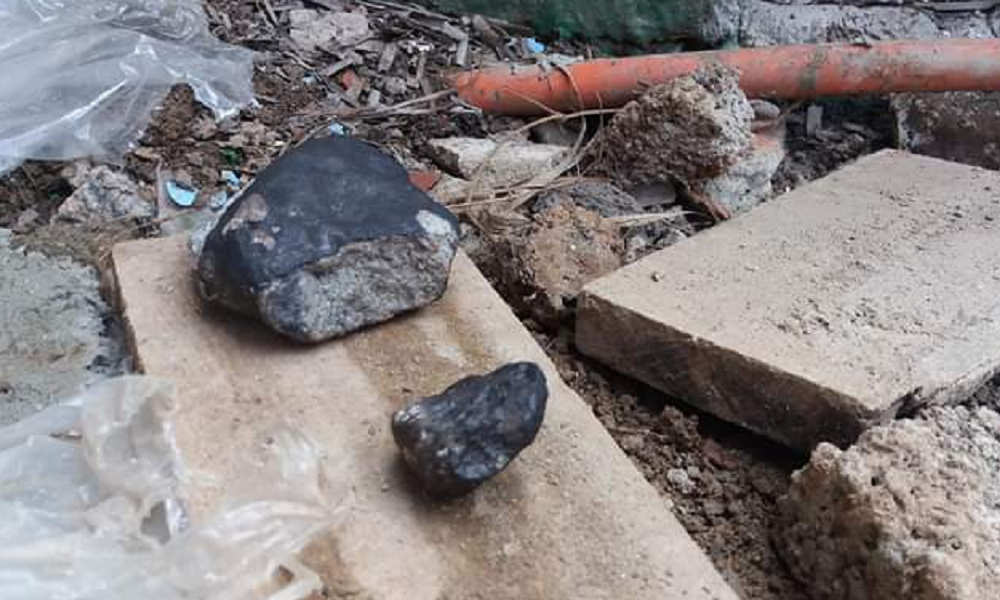 A loud explosion was heard as a meteorite fell in western Cuba, shattering windows but causing no injuries, residents and U.S. officials say. Debris was found at multiple locations.
The incident happened at 1:20 p.m. local time on Friday when a loud boom was heard in parts of Pinar del Rio, a province at the western end of the island. A trail of smoke was visible in the sky.
"We're receiving reports that a meteor was seen in the sky across the Florida Keys," the U.S. National Weather Service said. "It appears that a meteorite impact occurred in western Cuba, near the town of Viñales."
Multiple residents near Viñales, near the Mural of Prehistory, reported finding black rocks near their homes. A photo from the state-run Prensa news agency showed that one of the fragments went through a roof, and a reporter said a number of windows had been shattered.
There were no immediate reports of injuries.
Meteors occasionally survive the fiery passage through Earth's atmosphere, but they usually go unnoticed because many fall in the ocean. A meteor fell in Russia in 2013, causing damage and injuring nearly 1,500 people.
#BREAKING: Just got this video from a friend in #PinardelRio who says they think the trail in the sky was left by a #meteorite, which shattered windows and made extremely loud sounds. Sounded like two #explosions. #cuba @WPLGLocal10 pic.twitter.com/AMmb9ZE6vB

— Hatzel Vela (@HatzelVelaWPLG) February 1, 2019
Reporteros de @TelePinar en el #MuraldelaPrehistoria #Viñales #PinarDelRio constatan caída de piedras negras de alrededor de 7 cm luego de un gran estruendo. @fatimaTelePinar investiga #Cuba pic.twitter.com/NLLvVcr18U

— Rolando Segura (@rolandoteleSUR) February 1, 2019
Porfa!!! Esto es urgente! Alguien sabe si a la 1:32pm sobre Cuba o así cayó un meteorito??? Estos son fragmentos y la huella q dejó!! pic.twitter.com/1gVupUHYdl

— emily_dickinson (@emilydi47073334) February 1, 2019
En el #MuraldelaPrehistoria, en #Viñales se constata la caída de piedras negras de alrededor de 7 cm. Foto tomada de @ACN_Cuba. #Cuba #meteorito #PinarDelRío pic.twitter.com/NvMIOhpTzo

— El Toque (@eltoquecom) February 1, 2019
Fragmentos de piedra evidencian el estruendo que hace un momento estremeció varios sitios de Pinar del Río. Se escuchó una fuerte explosión en el #MuraldelaPrehistoria @daimytelepinar @TelePinar @lenrique64 @teleSURtv @BelkysTelePinar pic.twitter.com/XZv4Q8Z3cM

— Prensa Latina (@PrensaLatina_cu) February 1, 2019