5 dead as small plane crashes into home in Southern California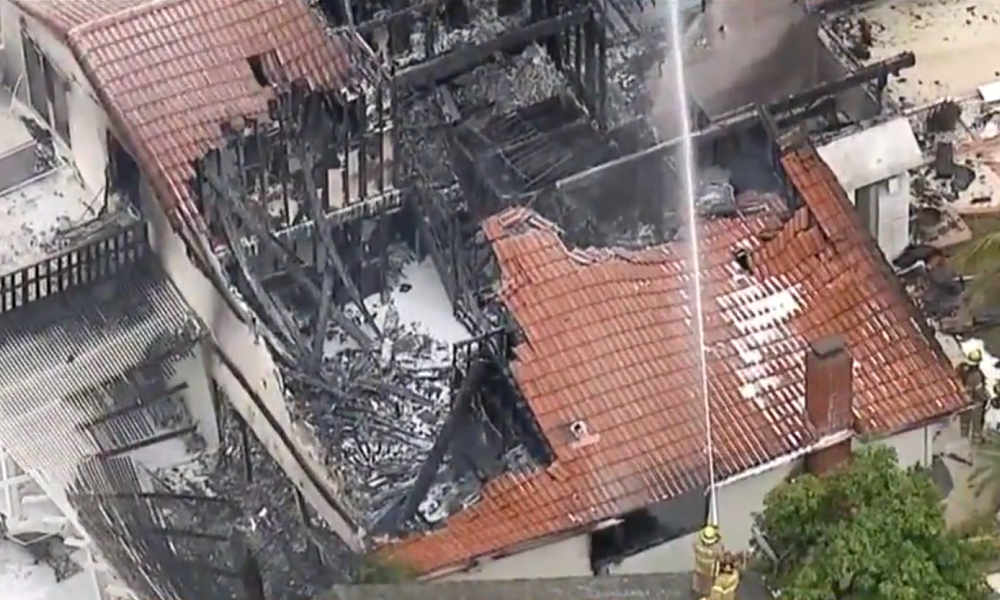 A small plane has crashed in a neighborhood in Southern California, setting a home on fire and killing five people, officials and witnesses say. Two other people were taken to hospital.
The accident happened at about 2 p.m. PT on Sunday when the plane, a twin-engine Cessna 414A, went down in Yorba Linda, a city about 26 miles (42 kilometers) southeast of downtown Los Angeles.
The plane, which had taken off from Fullerton Municipal Airport with only the pilot on board, struck at least one home before crashing in the backyard of another home. Several other buildings were damaged by debris.
The Orange County Sheriff's Department said 5 people were killed: the male pilot and 4 people who were inside the home that was struck, including two males and two females. Two other people were taken to hospital.
The home that was struck was hosting a watch party for the Super Bowl at the time of the crash. Several people managed to escape and were seen screaming for loved ones they couldn't find, according to KABC-TV.
Allen Kenitzer, a spokesman for the Federal Aviation Administration, said the aircraft went down under unknown circumstances. He said both the FAA and the National Transportation Safety Board (NTSB) will investigate.
Photo from David Steven Jr. Said part of plane debris landed in his parents' backyard. Two dead, two transported #YorbaLinda @ABC7 pic.twitter.com/LoxUGM6Xzi

— Greg Lee (@abc7greg) February 3, 2019
A plane crashed in my neighborhood MInutes who #yorbalinda #planecrash #abcnews #cnnnews #news pic.twitter.com/ApabRhrWfB

— Joshua Nelson (@JoshuaRNelson) February 3, 2019
Neighbors witness fiery plane crash into #YorbaLinda home reportedly hosting #SuperBowl party @CBSNews @CBSLA pic.twitter.com/btRubQLDJV

— JASMINE VIEL (@jasmineviel) February 3, 2019
#BREAKING This is the home small plane crashed into in Yorba Linda — leaving a debris field through neighborhood. OCFA confirms 2 killed, 2 injured. #abc7eyewitness pic.twitter.com/HplGKkconA

— Marc Cota-Robles (@abc7marccr) February 3, 2019