Man shot dead after chasing wife, crashing into cars on Austin highway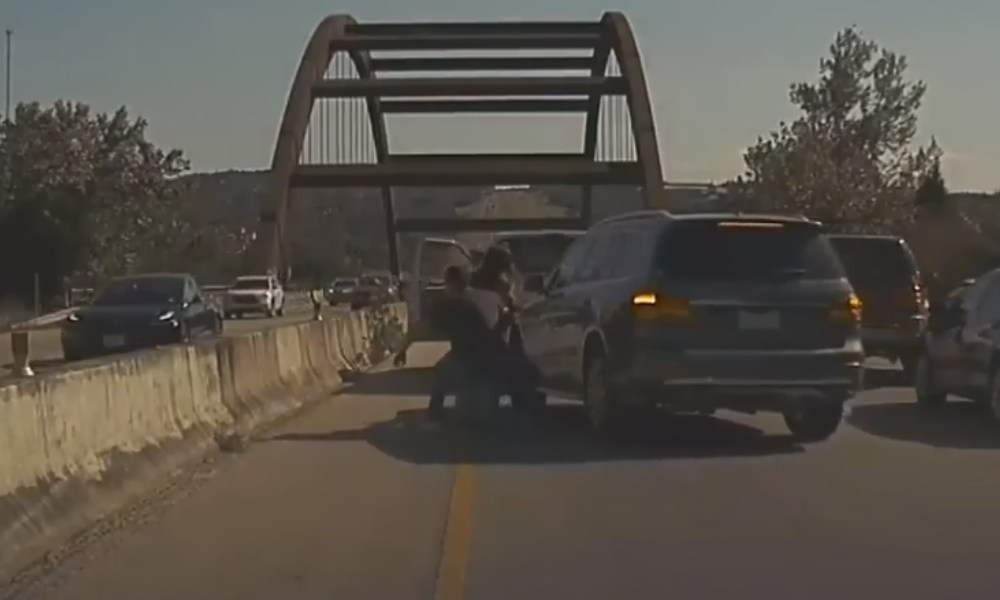 A man who chased his wife down a highway in Austin and crashed his vehicle into the car of someone who was trying to help has been shot dead by police, local officials say. The woman was taken to hospital with serious injuries.
Scroll down for video.
Austin Police Chief Brian Manley said there was some sort of disturbance between the couple as they were driving on the Loop 360 highway on late Sunday afternoon. The woman jumped out of the vehicle, ran along the highway, and got into another vehicle to try to get away.
A short time later, footage from a dashcam shows the suspect's SUV driving down the emergency lane and crashing head-on into two other vehicles, one of which was trying to help his wife. The woman is then seen running from the second vehicle to get help from drivers on the highway.

"The suspect can then be seen running back into the video frame. He picks up the victim and he's carrying her back off to the side of the road," Chief Manley said. Witnesses said the suspect pinned her down on the ground, but he quickly ran off into the woods when other drivers were getting out.
About half an hour later, the suspect texted his stepdaughter, letting her know that her mother was OK, but that he was going to be killed by police, Manley said. Police found him in the woods less than 30 minutes later, at which point he began making threats to shoot the officers.
Manley said the man claimed to have a gun and repeatedly yelled, "I will shoot you!" After multiple commands from the officers to drop his weapon, the officers opened fire, Manley said. CPR was performed on the suspect and he was rushed to hospital, where he was pronounced dead.
Manley said the woman, a 44-year-old woman, was taken to an area hospital with serious but non-life threatening injuries. The suspect's name was not immediately known. Police described him as a 45-year-old man.
Viewer video shows a wrong-way driver barreling into oncoming traffic near the Pennybacker Bridge in Austin. A woman is then seen running, being chased, and eventually grabbed by a man. pic.twitter.com/dU60GvtaBJ

— Tom Miller (@TomMillerKXAN) April 29, 2019