2 dead in shooting on UNC Charlotte campus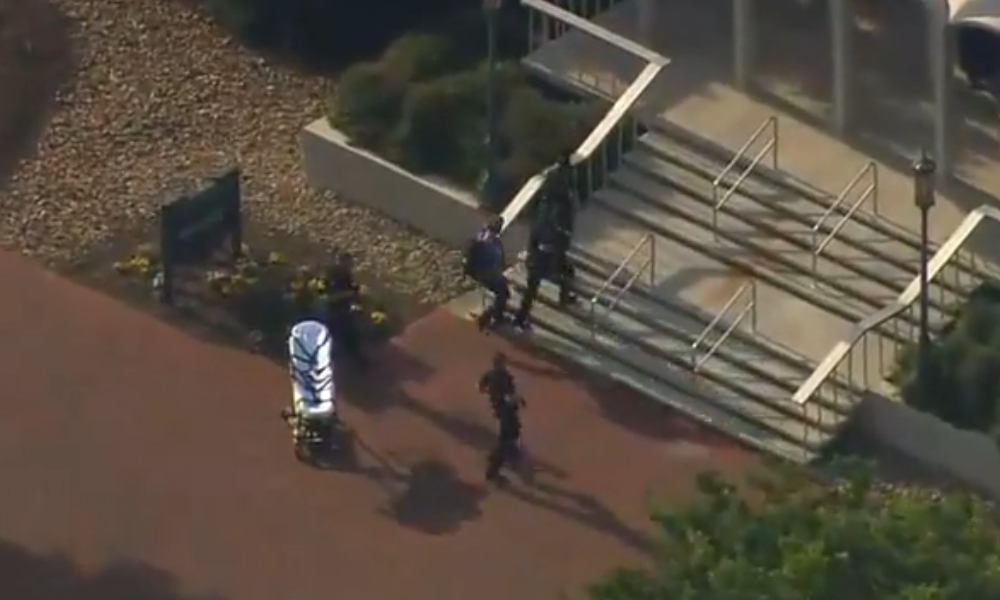 A gunman has opened fire at the campus of the University of North Carolina in Charlotte, killing 2 people and injuring several others, local officials and witnesses say. The suspect, a 22-year-old man, was taken into custody.
The incident began at 5:40 p.m. on Tuesday, which was the last day of class, when a man opened fire at the Kennedy building on the Charlotte campus. It happened just minutes before a free concert was scheduled to start.
UNCC Police Chief Jeff Baker said 2 people were pronounced dead at the scene and 4 others were taken to hospital, including 3 people who remain in critical condition. There was no immediate word on the identities of those killed.
The suspect, 22-year-old Trystan Terrell, was taken into custody a short time later, but there was no word on a possible motive. As he was brought into a police station, he appeared to be laughing as he answered a reporter's question.
"This is a tragic day for Charlotte and this great university. We mourn the lives lost and we will all be here to support each other," North Carolina Governor Roy Cooper said. "I commend the first responders for their quick action and am grateful that the campus is now secure."
As night fell, the lockdown continued as officers were going room-to-room to make sure the area is safe. "This could take several more hours. It is believed that there is no ongoing threat, but police are taking every precaution to ensure safety," the university said in an update.
Click here to watch live coverage from NBC Charlotte.
UNCC Shooter being taken away, hope everyone is safe pic.twitter.com/l7QsgUtwbS

— Katherine Lopez (@K_lopez94) April 30, 2019
@FOX46News #uncc library shooting pic.twitter.com/YOzERqPT86

— jordan 🙂 (@jordaypearce) April 30, 2019
I'm okay. We're on lockdown. #uncc pic.twitter.com/YVNY1iXHJH

— Fer (@FeerNav) April 30, 2019
BREAKING: Getting closer to the heart of @unccharlotte where sources are telling @wsoctv multiple people have been shot on campus. We have a full team working to get more info now. Turn on Channel 9 for continuous live coverage. pic.twitter.com/XdI2XUrB5q

— Liz Foster (@lizfosterWSOC9) April 30, 2019