Gunmen open fire at school near Denver, killing 1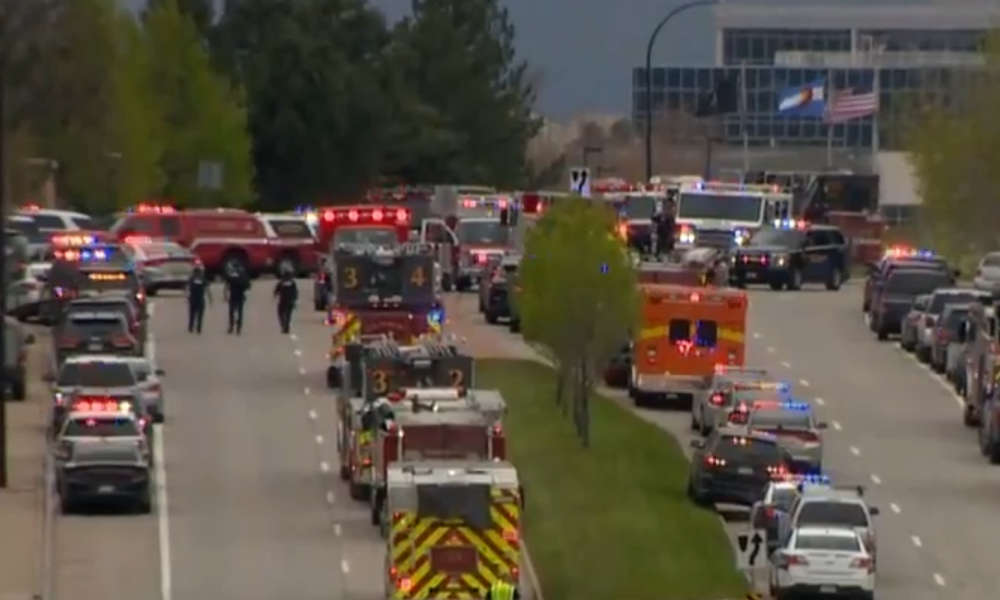 Two gunmen have walked into a high school near Denver and opened fire, killing one student and injuring eight others, local officials say. Both suspects were taken into custody and a possible motive was not immediately known.
It began just before 2 p.m. on Tuesday when two men entered STEM School Highlands Ranch, walked to two separate classrooms, and opened fire, according to Douglas County Sheriff Tony Spurlock. It's about 12 miles (19 km) south of downtown Denver.
The shooting, which happened in the high school area, was first reported by a school administrator at 1:53 p.m. "As officers were arriving at the school, they could still hear gunshots," Undersheriff Holly Nicholson-Kluth told reporters at a news briefing.
Only few details about the circumstances of the shooting were released, but authorities said both shooters were taken into custody at the scene. "They were caught by officers running into the school," Nicholson-Kluth said.
One victim, an 18-year-old male student, was pronounced dead at the scene. Eight others – all of them students aged 15 or older – were taken to area hospitals, where four of them were reported to be in serious or critical condition.
There was no word on a possible motive, but the suspects were identified as 2 males, one of whom is 18 years old. Both are students at the school and struggled with police before they were taken into custody, Sheriff Spurlock said.
Just over a week before the shooting, an ominous update was made to the school's Wikipedia page. Commenting on programs designed to lower the chance of suicide and school shootings, the anonymous editor wrote: "Do they work? We shall see."
Tuesday's mass shooting happened just a few miles from Columbine High School, where two teenagers went on a killing spree on April 20, 1999, killing 12 students and 1 teacher before they committed suicide. It was the deadliest high school shooting in U.S. history.
This is the most heartbreaking photo I have ever taken. These children are watching police clear their school after eight students were shot at the STEM high school next door. #highlandsranchshooting pic.twitter.com/sdAifNi6Ww

— Ashley Michels (@ReporterAshley) May 8, 2019
Little kids are coming out in a. Single file line! pic.twitter.com/3Y9oXqiLfr

— Shreya Nallapati (@ShreyaNallapati) May 7, 2019
Large numbers of police and emergency vehicles outside STEM Highlands Ranch school. Still waiting for word from authorities on specifics pic.twitter.com/q90wjsbqc6

— John Daley (@CODaleyNews) May 7, 2019