41 dead after plane crash-lands, catches fire at Moscow airport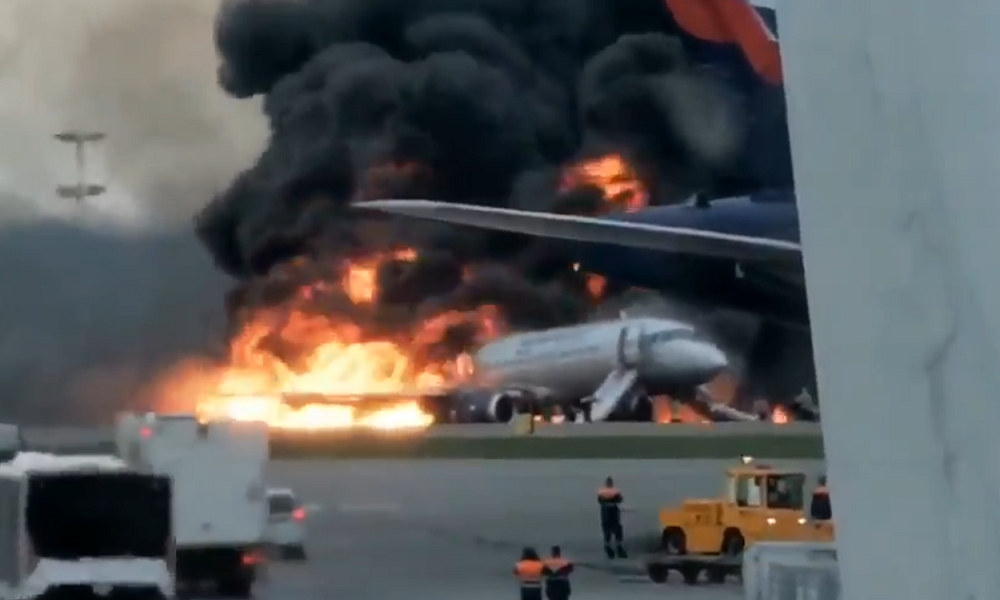 A fire swept through an Aeroflot passenger plane as it made an emergency landing at an airport in the Russian capital of Moscow, killing at least 41 people and injuring dozens more, local officials say. The evacuation was hampered by people trying to save their luggage.
It happened just after 6 p.m. on Sunday when the plane, a Sukhoi Superjet 100, took off from Moscow's Sheremetyevo Airport. It's believed to have been hit by lightning a short time later, causing technical problems and forcing a return to the airport.
Footage from a security camera showed the aircraft bouncing on the runway before it landed a second time and burst into flames. When the plane came to a stop, the emergency slides were activated, allowing passengers to evacuate as the fire engulfed much of the aircraft.
Of the 78 people on board, only 37 survived, according to Russia's Investigative Committee. Many of those killed are believed to have died in the tail section, which was completely destroyed. Dozens of other people were injured, some of them seriously so.
Efforts to save luggage may have slowed down the evacuation, according to the Russian news agency Interfax.
"From a survey of witnesses, it appears that when the plane hit the ground and caught fire, some passengers began trying to get their belongings from the overhead bins in panic. This made it difficult for people to evacuate from the back rows of the aircraft and they died in the fire," a source told Interfax.
The source explained that those who were trying to get their luggage may not have been thinking clearly. "In an extreme situation, people act mechanically, trying to save personal belongings, without thinking that it is extremely dangerous for them and for others," the source said.
Russian President Vladimir Putin sent his condolences to the families and friends of those killed and ordered a thorough investigation, according to the Kremlin. Aeroflot Flight SU 1492 was scheduled to fly to Murmansk, a city in northwest Russia.
Video of the landing:
BREAKING: Passenger plane with fire on board makes emergency landing at Moscow airport https://t.co/KsvfkFY0WW pic.twitter.com/YjpQo4lvji

— BNO News (@BNONews) May 5, 2019
Video filmed by a passenger:

Пожар на борту SSJ 100 . pic.twitter.com/307NxPihTn

— Коммерсантъ FM 93,6 (@KFM936) May 5, 2019
Мой читатель прислал видео из аэропорта. Момент эвакуации из горящего Суперджета. Экипаж, конечно, надо обязательно наградить. 78 душ спасено только благодаря ему. pic.twitter.com/MMir2sIl1h

— Александр Коц (@sashakots) May 5, 2019
Первые секунды после посадки горящего борта в Шереметьево. Люди, спасшиеся из самолёта, бегут по полосе pic.twitter.com/j3lcDnvtEF

— baza (@bazabazon) May 5, 2019
«Тормозили эвакуацию, доставая и забирая с собой ручную кладь». Какой кошмар, нарушили все инструкции:https://t.co/WgvwyS2vHr pic.twitter.com/QZnAP9i2II

— Илья Варламов (@varlamov) May 5, 2019