Texas Amber Alert: Salem Sabatka abducted from Fort Worth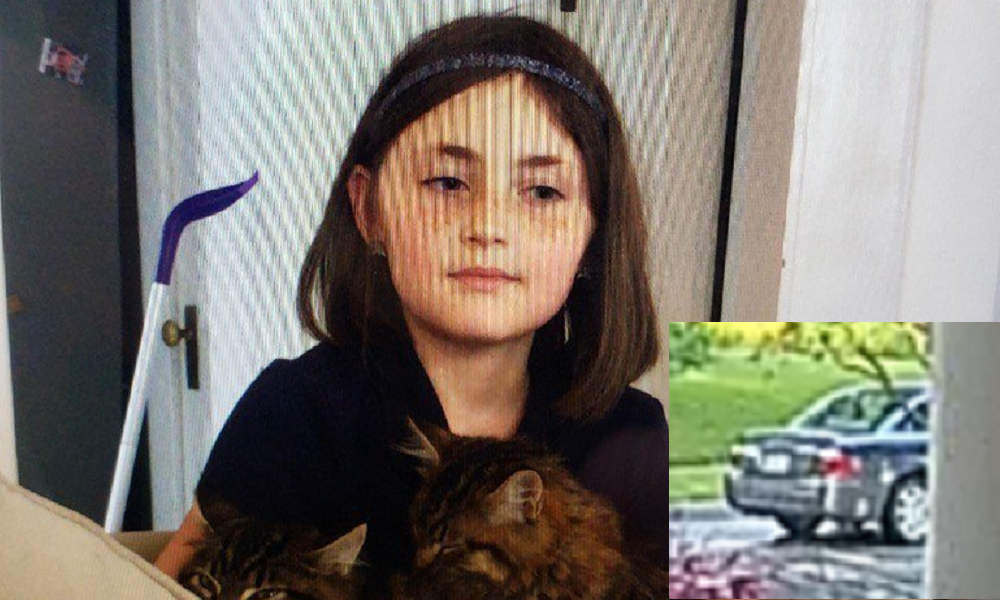 UPDATE: The amber alert has been canceled. Salem was found safe on early Sunday morning after someone spotted the vehicle. The suspect was taken into custody. Michael Webb, 51, has been charged with Aggravated Kidnapping.
A Texas Amber Alert has been issued for 8-year-old Salem Sabatka after she was violently abducted on a street in Fort Worth, local officials say. Anyone with information is urged to call 911 immediately.
The incident happened just after 6:30 p.m. on Saturday when a man approached a mother and her daughter in the 2900 block of 6th Avenue. He then grabbed Salem and pulled her into his car, according to police.
The mother tried to pull Salem out of the vehicle, but the man pushed her out and drove off at a high rate of speed. The kidnapping was captured on a doorbell camera (video below), which shows a dark gray 4-door sedan with alloy wheels and paper plates taking off.
The suspect has not yet been identified, but he's described as a light-skinned black male of skinny build, balding and without facial hair. He might be in his 40s, police said, and he was last seen wearing a navy-colored jacket and gray shirt.
Salem is described as an 8-year-old female with brown hair and blue eyes, standing 4 feet 5 inches tall and weighing 56 pounds. She was last seen wearing a Teal shirt with pink wording "Centennial" and periwinkle seafoam green leggings. She has freckles under her eyes and pierced ears.
Anyone who sees Salem, the suspect, or the suspect vehicle is urged to call 911 immediately, or call the Fort Worth Police Department at 817-392-4222 if you have any other information that could help investigators.
This is an amber alert. Please check back or follow @BNONews on Twitter as details become available. If you want to receive breaking news alerts by email, click here to sign up. You can also like us on Facebook by clicking here.
BREAKING: 8-year-old girl abducted on Fort Worth, Texas, street https://t.co/yT2q8EQcYH pic.twitter.com/2Y0vODOTHG

— BNO News (@BNONews) May 19, 2019
TEXAS: Amber Alert for 8-year-old Salem Sabatka, taken by force on 6th Avenue in Fort Worth. Call 911 if seen. (Source: FWPD) pic.twitter.com/ZwXdqcpOSd

— U.S. Emergency Alert (@ENSAlerts) May 19, 2019
#ALERT

This is the vehicle involved in the kidnapping of #SalemSabatka

Please Share. pic.twitter.com/tu6hbr3Cx5

— Fort Worth Police (@fortworthpd) May 19, 2019