Twitter bans Krassenstein brothers for operating fake accounts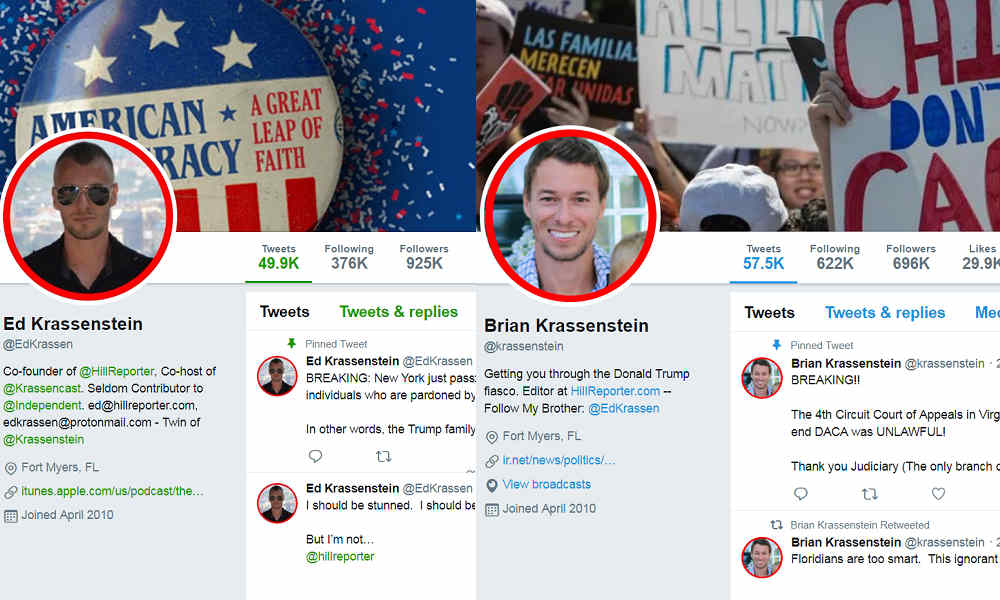 Ed and Brian Krassenstein, two of the best-known anti-Trump activists on Twitter, were permanently banned on Thursday for allegedly operating fake accounts and paying to increase their audience, the company said.
The twin brothers from Florida were known on Twitter for tweets criticizing President Donald Trump and his administration. With more than 1.6 million followers combined, they were often among the top replies on Trump tweets.
"The Twitter Rules apply to everyone," a Twitter spokesperson said. "Operating multiple fake accounts and purchasing account interactions are strictly prohibited. Engaging in these behaviors will result in permanent suspension from the service."
Other details were not released, but Brian denied the allegations.
"We have never once acquired anything for the purpose of increasing our Twitter presence," he said. "We both operated secondary accounts that were used for the purpose of viewing accounts that threatened us and our family in various ways before blocking our main accounts."
It was previously reported that, according to investigators, the brothers were involved in websites which promoted financial scams. Law enforcement seized nearly half a million dollars from them in 2017, which prosecutors claimed was derived from wire fraud, but the men were not charged with a crime, according to the Daily Beast.
Ed's Twitter account, which was registered in April 2010, was the most popular of the two and started out as a Justin Bieber fan account. According to the Daily Beast, one of the two men took to a forum in early 2017 and offered to pay for Twitter accounts with more than 40,000 followers.
Over the past 2 years, Twitter has cracked down on fake accounts and those which have a history of spreading false information. Many conservatives, however, have often criticized Twitter for failing to take action against left-leaning accounts.