UK MP Jared O'Mara's chief of staff hijacks Twitter account to resign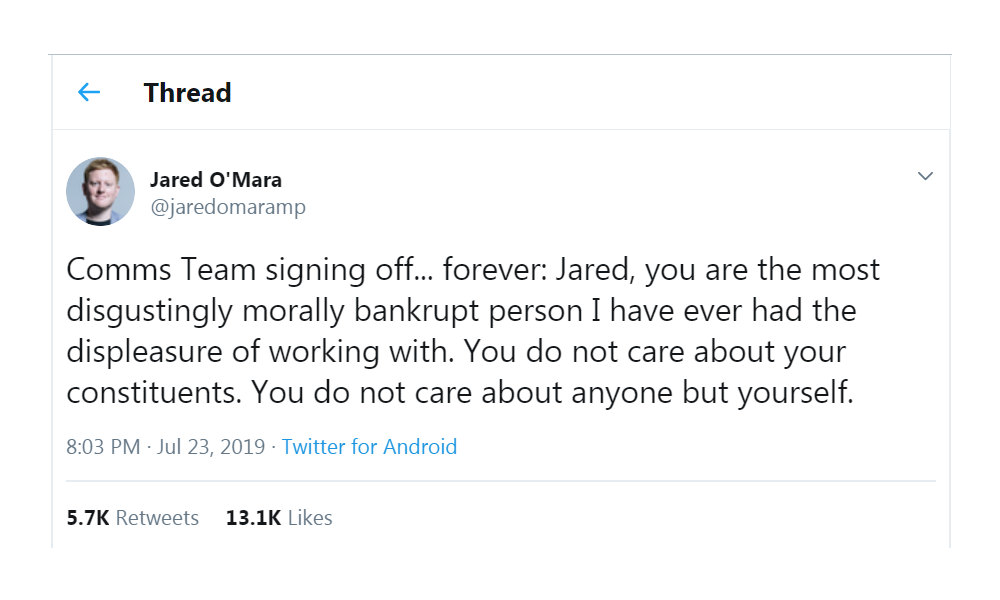 British member of parliament Jared O'Mara, who resigned from the Labour Party last year, has had his Twitter account hijacked by his own chief of staff, who sent a series of tweets in which he quit his job and called the lawmaker "morally bankrupt."
Gareth Arnold, who joined O'Mara's staff about two months ago, announced his resignation in a series of tweets sent from the lawmaker's Twitter account on Tuesday night. The comments quickly went viral and were retweeted tens of thousands of times.
"Comms Team signing off… forever: Jared, you are the most disgustingly morally bankrupt person I have ever had the displeasure of working with. You do not care about your constituents. You do not care about anyone but yourself," Arnold said in the first tweet.
In subsequent tweets, he added: "I cannot and will not defend you and your vile, inexcusable contempt for the people who voted you in. You selfish, degenerate prick. … Sheffield Hallam deserves so much better than you. You have wasted opportunities which people dare not to even dream of."
There was no immediate comment from O'Mara himself.
Arnold, who accused the lawmaker of having alcohol and drug addictions, said O'Mara "hasn't been in for a few weeks." He added that his phone is connected to O'Mara's Twitter account, which means the MP is unable to log in to Twitter.
O'Mara, 37, was elected to parliament in 2017, defeating former Deputy Prime Minister Nick Clegg. Just a few months later, O'Mara was suspended by the Labour Party over online remarks from 2002 and 2004 which were described as racist, sexist, and homophobic.
O'Mara was reinstated by the Labour Party last summer, but he resigned from the party just two days later, saying he had been made "unfairly to feel like a criminal." In an open letter to constituents, O'Mara said he is autistic and suffers from clinical depression, cerebral palsy, and anxiety.