6 killed after shooting at Jewish store in New Jersey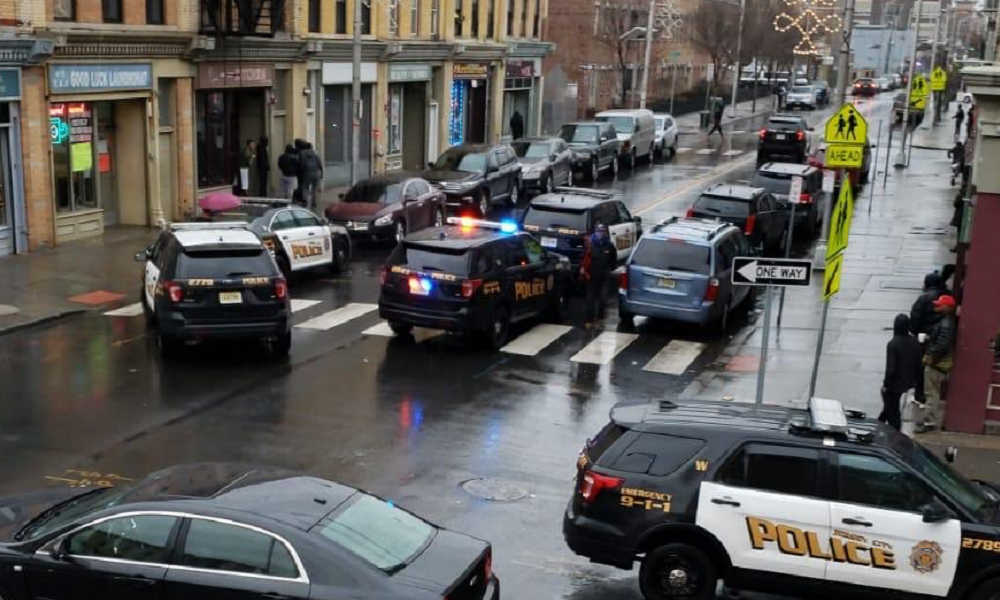 A police officer and three civilians were among six people killed Tuesday when an hours-long gun battle erupted in New Jersey, local officials say. One of the scenes was a Jewish grocery store which the mayor said was "targeted" by the shooters.
The incident began at about 12:30 p.m. on Tuesday when Detective Joseph Seals, who worked on a unit that works to prevent shootings, was shot and killed at Bayview Cemetery in Jersey City. The circumstances of the shooting were not immediately clear.
The two suspects, who were only described as men, then drove a stolen U-Haul van to Martin Luther King Drive, where they entered a kosher grocery and opened fire. It prompted an hours-long standoff in which the shooters fired hundreds of rounds at police until both of them were killed.
When officers entered the store, they found five bodies: three civilians and the two suspects. There was no official word on their identities, but the Israeli newspaper Haaretz said the 3 victims were Jewish. The bomb squad was also investigating the van for what could be an "incendiary device."
In the immediate aftermath of the shooting, authorities said there was no indication of a hate crime or terrorism, but Jersey City Mayor Steven Fulop said in a late-night tweet that the shooters had "targeted" the location. His office declined to provide additional information.
"Based on our initial investigation (which is ongoing) we now believe the active shooters targeted the location they attacked," Fulop said. "Due to an excess of caution the community may see additional police resources in the days/weeks ahead. We have no indication there are any further threats."
As a result, police in New York City were put on "high alert" and officers were sent to key locations in the Jewish community, Mayor Bill de Blasio said. He added that there was no evidence of a credible or specific threat against New York City.
WATCH: Heavy gunfire is continuing in Jersey City at this time pic.twitter.com/UonFshfzY9

— BNO News (@BNONews) December 10, 2019
WATCH: Heavy gunfire heard as police respond to active shooter in Jersey City; multiple victims; scene still active pic.twitter.com/rKx9VHR4HC

— BNO News (@BNONews) December 10, 2019
Exclusive video from the scene of the active shooter in Jersey City.@BlueLivesNYC @ImperatriceV pic.twitter.com/WGmpYDaDhl

— NYC Blue Lives Photographer (@bluelivesphoto) December 10, 2019