Tennessee Amber Alert: Holly Piper missing with boyfriend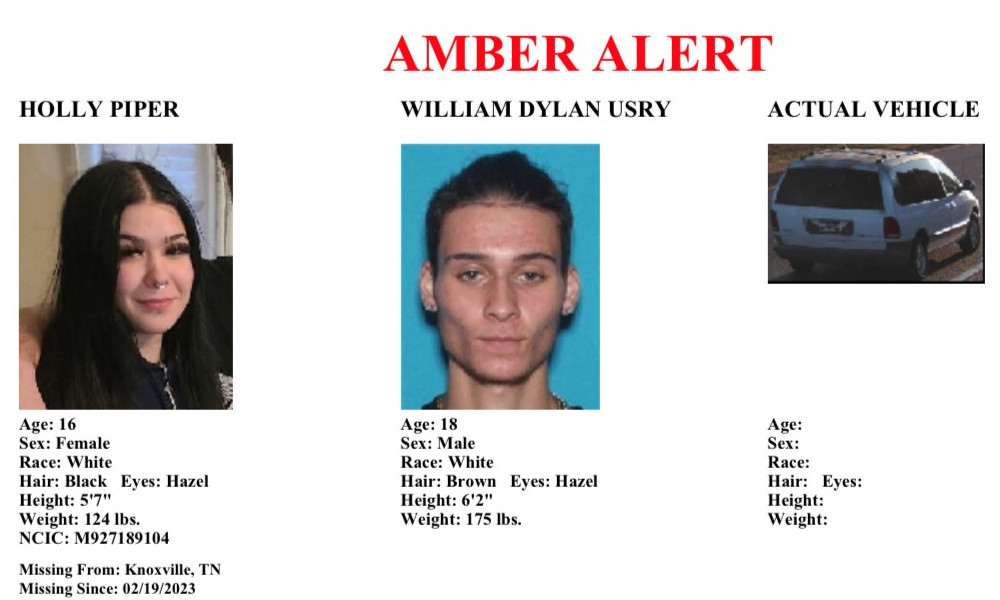 A Tennessee Amber Alert has been issued for 16-year-old Holly Piper from Maryville after she went missing with her 18-year-old boyfriend while visiting Knoxville, local officials say. Anyone with information is urged to call 911 immediately.
Holly and her sister came to Knoxville on Saturday to visit a friend, after which they went to CookOut on Cumberland Avenue at around 3 a.m. on Sunday. While they were there, Holly's boyfriend showed up and she jumped into his va, after which they drove off.
The boyfriend has been identified as 18-year-old William "Dylan" Usry, who was involved in a police chase in Oak Ridge on November 21, which resulted in multiple charges, including DUI, aggravated assault x4, possession of drug paraphernalia and possession of a firearm during the commission of a felony.
"Usry has a court date on those charges on March 2, and it is believed that he is actively fleeing to avoid his court date and that he has possibly coerced Holly into leaving against her will," the Knoxville Police Department said in a statement on Wednesday, when the amber alert was issued.
Usry and Holly are believed to be driving in a white 1999 Dodge Caravan with Tennessee license plate number BMM-5038. The van has front bumper damage and rust on the roof, according to the amber alert.
Anyone who sees Holly, Usry or the suspect vehicle is urged to call 911 immediately, or call the Knoxville Police Department at 865-215-7165 if you have any other information that could help investigators. You can also call TBI at 1-800-TBI-FIND.
This is an amber alert. Please check back or follow @BNONews on Twitter as details become available. If you want to receive breaking news alerts by email, click here to sign up. You can also like us on Facebook by clicking here.