Roof collapses during concert at Illinois theater, killing 1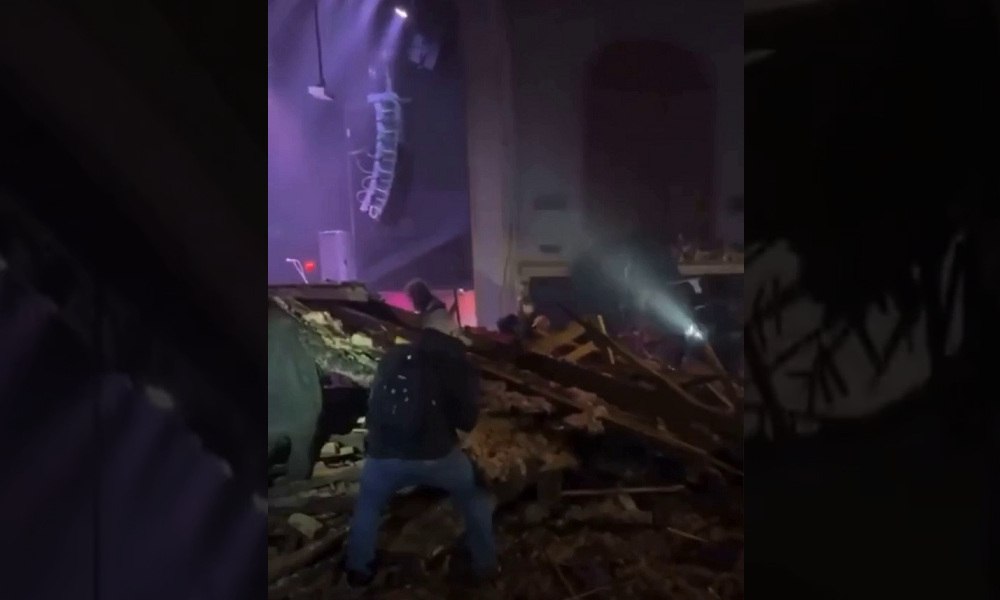 A roof has partially collapsed during a concert at the Apollo Theatre in Belvidere, Illinois, killing at least one person and injuring nearly 30 others, local officials say. It happened during a tornado-warned storm.
The collapse happened at 7:55 p.m. on Friday when about 250 people were inside the Apollo Theater in Belvidere, just east of Rockford, where the death metal band Morbid Angel was scheduled to perform.
A video from the scene showed people screaming for help as others tried to pull victims from the rubble.
Belvidere Fire Chief Shawn Schadle confirmed that at least one person was killed in the collapse. Another 28 people were taken to area hospitals, where at least five of them were reported to be in critical condition.
A tornado warning was in effect for the area at the time of the collapse, according to the National Weather Service. Storm damage was also visible in front of the theater.
"Tonight's show is canceled due to a tornado that hit the venue," Morbid Angel said in a statement. "We are currently sheltering in place and want to extend our support and hope that everyone at the show tonight is safe."
"Right now our focus is on making sure everyone in the venue tonight is ok and gets home," the band added.
Illinois Governor J. B. Pritzker said his administration was "closely monitoring" the situation in Belvidere. "I've been in touch with officials for updates and to direct any available resources we can," he said.
WATCH: Roof collapses during Morbid Angel concert in Belvidere, Illinois. Reports of multiple victims pic.twitter.com/iDGF09NA4A

— BNO News Live (@BNODesk) April 1, 2023
The concert at the Apollo Theatre in Belvidere, Illinois, moments before the roof collapsed, causing an unknown number of victims pic.twitter.com/cegroXCDix

— BNO News Live (@BNODesk) April 1, 2023