Europe's largest cocaine lab dismantled in Spain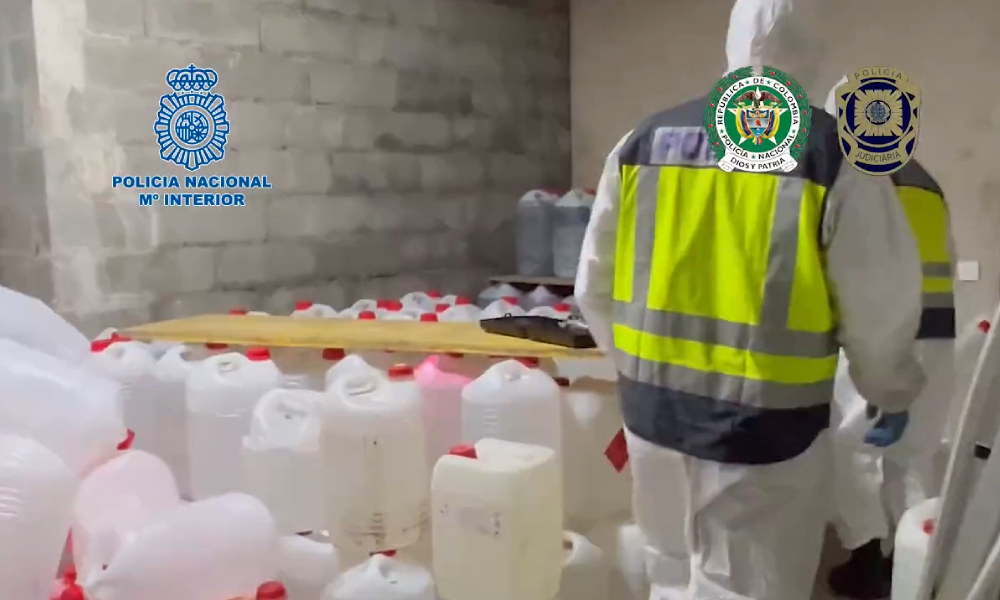 Spain has dismantled what is believed to be the largest cocaine production lab in Europe, according to local authorities. The laboratory had the capacity to operate 24/7 and was able to produce up to 200 kilograms (441 lbs) of cocaine on a daily basis.
According to police, the large-scale cocaine laboratory was situated in Pontevedra province in Spain's Galicia region, north of Portugal. The drug operation was reportedly run by an international criminal organization with connections to powerful Mexican and Colombian cartels.
"The members of the criminal organization had a high degree of sophistication and a clear division of roles," Spanish police said in a statement. "On the one hand, the Colombians provided the human resources in the form of 'cooks' or laboratory chemists. On the other hand, the Mexicans provided the technical know-how for the correct extraction of coca base."
"Finally, the Spaniards were in charge of the bulk of the operation, including managing the transportation of the substance from the country of origin (Colombia) to its reception in Pontevedra for its corresponding treatment in the laboratory, whose installation they were also in charge of, and the subsequent distribution of the final product throughout the national territory."
Police investigations revealed that two international criminal organizations from Colombia and Mexico joined forces to finance a large-scale cocaine lab capable of producing up to 6,000 kilograms (13,227 lbs) of cocaine hydrochloride in various phases.
A collaborative effort between the drug enforcement agencies of Spain, Portugal and Colombia resulted in the arrest of 18 members of the criminal organization in four different regions of Spain, including in the capital Madrid. Among those arrested were six Colombian and two Mexican citizens.
Authorities seized 1,300 kilograms (2,867 lbs) of cocaine base paste, 151 kilograms of cocaine hydrochloride (333 lbs), more than 23,000 liters (6,076 gallons) of precursors, and 4 tons of solid chemicals used in the drug manufacturing process. Additionally, a number of laboratory tools, documentation, cell phones, computers, high-end vehicles and up to 17 properties with an estimated value of approximately 1.7 million euros ($1.88 million) were also confiscated.
"The dismantled laboratory was of a magnitude unprecedented in Europe," the police statement said. "It was equipped with advanced air extraction systems and sophisticated refrigeration and heating equipment. All of this was perfectly compartmentalized in several areas in order to carry out the processing, separation, drying and packaging of the cocaine."