Panic erupts during Champions League viewing in Italy, injuring 1,500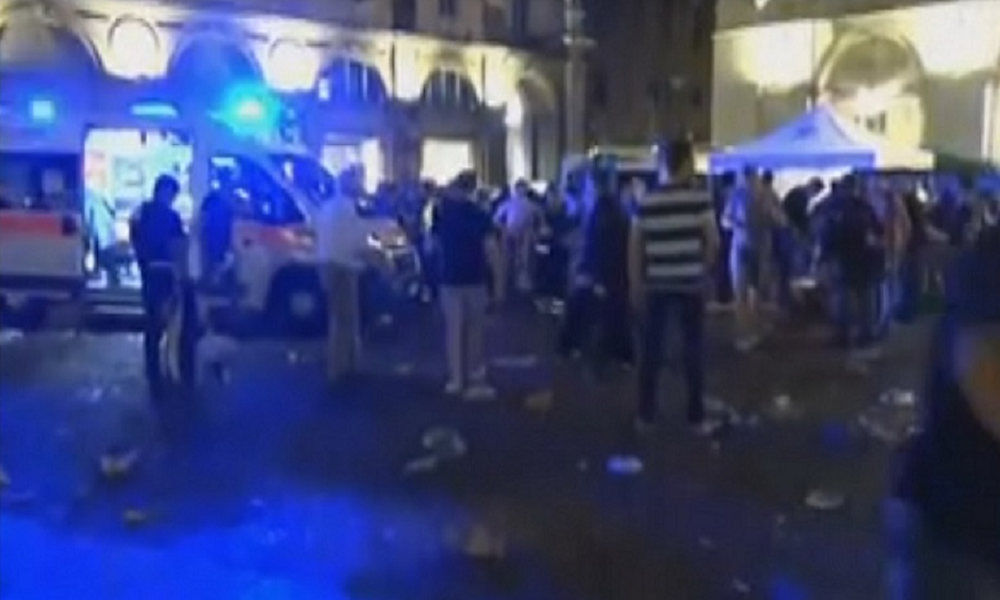 More than 1,500 people have been injured after panic erupted among football fans who were watching the Champions League final at a square in the Italian city of Turin, officials say. Some of the victims have been seriously injured.
The incident happened at 10:30 p.m. local time on Saturday, about 10 minutes before the end of the match, when panic erupted at Piazza San Carlo, though it remains unclear what exactly led up to it. Initial fears of an explosion or shooting were quickly denied by officials.
Several witnesses said a sudden bang – possibly caused by a firecracker – had caused the sudden panic. Videos from the scene showed thousands of people fleeing from the area and social media channels filled with rumors of a possible terrorist attack.
Authorities confirmed there had been no attack, saying that the false alarm had caused a stampede as people desperately tried to flee. Some of the victims were hurt when the railing of stairs leading to an underground parking garage gave way.
As of early Sunday afternoon, authorities confirmed that a total of 1,527 people had been treated for injuries. At least 7 of the victims were seriously injured, including a baby and a young girl who were trampled during the stampede. Most of the other victims suffered relatively minor injuries.
Thousands of Juventus fans had gathered at the square to watch the Champions League final on giant TV screens. The city of Turin is located in northwest Italy, about 125 kilometers (78 miles) southwest of Milan.
200 injured in Juventus fan panic after bomb scare https://t.co/QYJEQtLY3Q pic.twitter.com/skDS3A1cRk

— AFP news agency (@AFP) June 3, 2017
LO ÚLTIMO. Se reportan explosiones en Turin en una "Fanzone" donde la gente disfrutaba la final de la @ChampionsLeague pic.twitter.com/wenOfW9tro

— Telemundo Deportes (@TelemundoSports) June 3, 2017