Trump warns of 'big price to pay' after Syrian chemical attack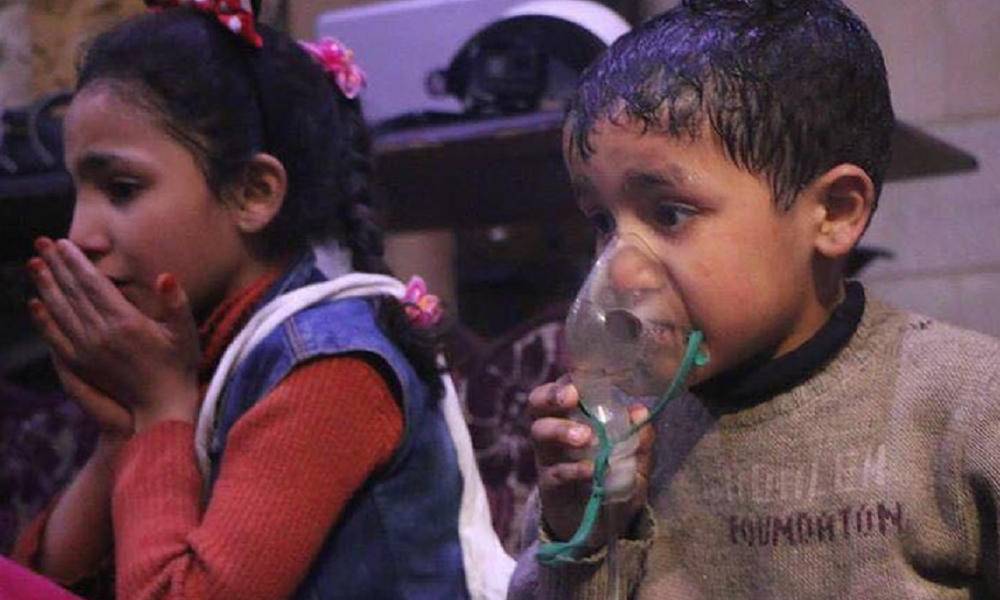 U.S. President Donald Trump has warned of a "big price to pay" after dozens of people were killed in a chemical attack in Syria. The United Nations Security Council is due to hold an emergency meeting on Monday.
Trump called the chemical attack "mindless" and an "atrocity" in a series of tweets on Sunday morning. He blamed Russia and Iran for backing Syrian President Bashar al-Assad, who he referred to as "Animal Assad."
"[The] area of atrocity is in lockdown and encircled by Syrian Army, making it completely inaccessible to outside world," Trump said. "President Putin, Russia and Iran are responsible for backing Animal Assad. Big price to pay."
Trump, who criticized his predecessor for his handling of the situation in Syria, added: "Open area immediately for medical help and verification. Another humanitarian disaster for no reason whatsoever. SICK!"
It was not immediately known whether Trump was considering a military strike in response to the attack, but fellow Republicans have advocated for a strong response against the Syrian regime. U.S. Homeland Security Advisor Tom Bossert, who was asked about a military strike, said nothing should be taken off the table.
But as international outrage grew, the Syrian government strongly denied any involvement in the chemical attack. State-run media, which cited the foreign ministry, said some countries are "trading with the blood of civilians" and called the allegations "unconvincing."
Meanwhile, the European Union said "the evidence points towards yet another chemical attack by the regime." An EU spokesperson urged an "immediate response by the international community" and called on both Russia and Iran to use their influence to prevent any further attacks.
Diplomats said the UN Security Council will hold an emergency meeting on Monday morning to discuss the chemical attack at the request of the United States, the United Kingdom, France, and several other countries.
Russia has also called for an emergency meeting of the UN Security Council but claimed that chemical weapons had not been used, calling it "fake news."
Russian diplomat Dmitry Polyanskiy questioned why the Assad regime would use chemical weapons when rebels in the area were losing the fight. "No logic! On the contrary, terrorists have all the reasons to stage such a provocation to attract attention," he said on Twitter.
The attack happened on Saturday evening when airstrikes were carried out in rebel-held Douma in Eastern Ghouta, which is on the outskirts of the capital Damascus. Activists claim that a cannister containing a chemical agent was dropped on a residential building.
The White Helmets, which is a group of rescue volunteers, said at least 48 people were killed in the attack and up to 500 others were sickened. Other sources have put the death toll as low as 21 and as high as 150.
Footage spread on social media showed dozens of dead people, including children, who appeared to be suffering from symptoms consistent with a chemical attack. Many of the victims had white foam coming out of their mouth.
The incident comes just over a year after 92 people were killed in a chemical attack in northwest Syria. The U.S. and other countries attributed the attack to pro-regime forces, even though the Syrian government strongly denied any involvement. The U.S. bombed a Syrian airbase in response, killing up to 16 people.