U.S. and the Caribbean prepare for up to 4 tropical cyclones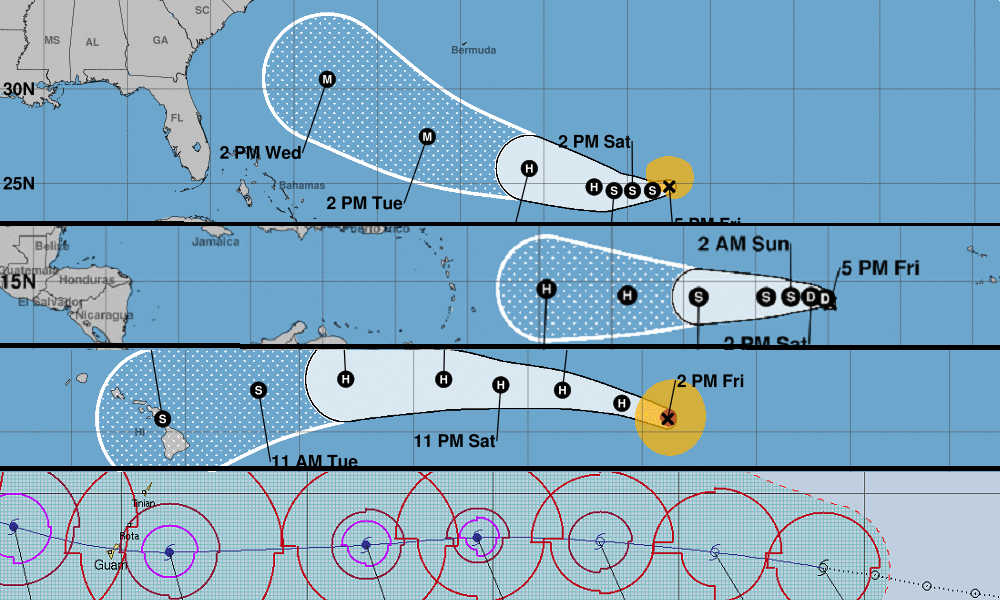 Authorities in the United States and the Caribbean are preparing for up to four tropical cyclones next week, including one which is heading for the U.S. East Coast and is expected to become a major hurricane.
Forecasters were monitoring six tropical cyclones in the Atlantic and the Pacific on Friday evening, with at least one more expected to form this weekend. Five of those are a threat to land.
In the Atlantic, forecasters are monitoring Tropical Storm Florence, which is forecast to become a powerful category four hurricane by Wednesday afternoon as it approaches the U.S. East Coast.
"There is still very large uncertainty in model forecasts of Florence's track beyond day 5, making it too soon to determine the exact location, magnitude, and timing of these impacts," said Robbie Berg, a hurricane specialist at the U.S. National Hurricane Center.
Authorities in several U.S. states have begun preparing for the possibility of a major hurricane making landfall, and North Carolina Governor Roy Cooper declared a state of emergency on Friday afternoon.
Forecasters are also monitoring Tropical Storm Mangkhut, which formed over the North Pacific Ocean earlier in the day. It is forecast to strengthen rapidly over the next few days, becoming a typhoon over the weekend and possibly reaching category four on Monday.
The Joint Typhoon Warning Center predicts Mangkhut will reach Guam and parts of the Northern Mariana Islands sometime on Tuesday local time. This could make it the strongest typhoon to hit Guam since Typhoon Pongsana in 2002.
"Guamanians are urged to prepare for a worst case scenario with Tropical Storm Mangkhut," Guam Homeland Security said in a statement. "Meteorologists say it will likely turn into a Category 4 typhoon by Tuesday but it could strengthen to a Category 5 typhoon."
Forecasters are also keeping an eye on Tropical Depression Nine, which formed over the eastern Atlantic on Friday afternoon. The depression is forecast to strengthen and become a hurricane on approach to the Lesser Antilles, but it's too early to predict the possible impact.
Meanwhile, Category 2 Hurricane Olivia is weakening over the Pacific Ocean as it moves closer to the Hawaiian islands. Forecasters say Olivia could reach the U.S. state on Wednesday morning, at which point it will likely have been downgraded to a tropical storm.
And then there's Tropical Storm Helene, which formed off Africa on late Friday evening. The system will likely move over the Cape Verde islands as a tropical storm on late Saturday and Sunday before it strengthens into a hurricane.