Strong earthquake hits Mexico-Guatemala border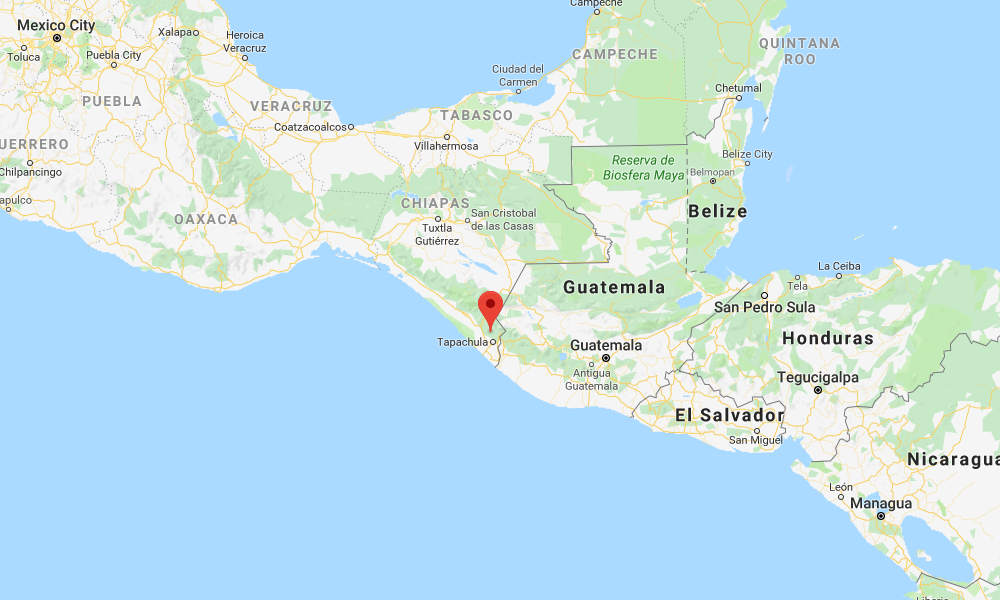 A strong earthquake measuring 6.6 has struck southeast Mexico near the border with Guatemala, causing minor damage, landslides and injuring several people, officials say.
The earthquake, which struck at 10:14 a.m. local time on Friday, was centered about 13 kilometers (8 miles) northwest of Tapachula in the state of Chiapas, or 13 kilometers (8 miles) west of Cacahoatán.
The earthquake measured 6.6 and struck at a depth of 68 kilometers (42 miles), which is fairly deep, according to the U.S. Geological Survey (USGS). Mexico's seismological agency put the magnitude slightly lower, at 6.5.
A number of buildings were damaged in Mexico and Guatemala, and landslides occurred along roads in southwest Guatemala, but there were no reports of major damage. At least 6 people were injured: 3 in San Marcos, 2 in Suchitepéquez, and 1 in Quetzaltenango.
Computer models estimate that up to 45 million people may have felt the earthquake, including 680,000 people who could have felt "strong" shaking, according to the USGS. Light shaking was felt in Mexico City and as far away as Belize and El Salvador.
Mexico sits on the Pacific Ring of Fire, an arc of fault lines circling the Pacific Basin which are prone to frequent and large earthquakes. A 7.1-magnitude earthquake struck central Mexico in September 2017, causing widespread damage and killing at least 370 people.
#Video ASÍ FUE EL TEMBLOR EN #Quetzaltenango las cámaras de una tienda muestra la magnitud de movimiento telúrico en #Quetzaltenango. pic.twitter.com/xzSwEPpReH

— JuanVictorC. @sonora969 (@juanVictorCas1) February 1, 2019
#TiemblaSanMarcos│Sismo provocó caída de fachada de estructura en la calle real de San Marcos y causa daños a vehículo estacionado en el lugar #EU983 pic.twitter.com/SrjSUkQfi0

— EU San Marcos 98.3 (@EUSanMarcos) February 1, 2019
Tras sismo se reportan derrumbes en la ruta de Retalhuleu-Quetzaltenango, no se reportan personas lastimadas. Fotos @CRGuatemalteca #SismoGT #Huehuetenango pic.twitter.com/pi1UqH6p1m

— ActualidadHuehue (@ActualidadHueh1) February 1, 2019
Daños en el edificio del pasaje Enríquez luego del sismo registrado en la ciudad de Quetzaltenango.
Vía @JaimeSoc_EU.#EUXela. pic.twitter.com/0QCh9rON5I

— EUXela 91.1 (@EU_Xela) February 1, 2019