Twitter permanently bans conspiracy theorist Jacob Wohl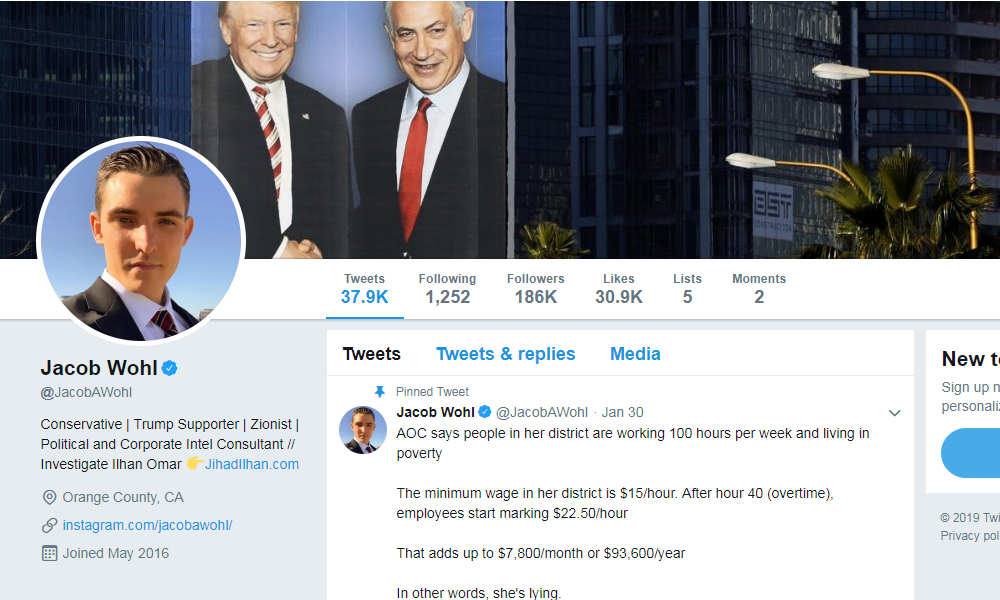 Jacob Wohl, a far-right conspiracy theorist who is well-known on Twitter for his support for President Donald Trump, has been permanently banned from the social networking website.
Wohl, who is 21 years old, had more than 186,000 followers when his @JacobAWohl account was suspended on Tuesday afternoon. The suspension is permanent, according to Twitter.
"The account was suspended for multiple violations of the Twitter Rules, specifically creating and operating fake accounts," a spokesperson told reporters. Other details were not released.
Wohl is well-known in certain corners of Twitter. He often replied to tweets from Trump to praise him for his work, while criticizing Democrats. But he also used his account to spread conspiracy theories.
Last year, Wohl claimed there was an allegation of sexual assault against Special Counsel Robert Mueller, who is investigating Russia's alleged interference in the 2016 presidential election and possible links to the Trump campaign.
The claims against Mueller were quickly discredited. A firm called SureFire Intelligence was said to be investigating the allegation, but the company was revealed to be a sham: employee profiles were fake, domain records linked to Wohl, and the phone number belonged to Wohl's mother.
In 2017, Wohl and a second person were ordered to pay a $5,000 fine for committing securities fraud in connection with two hedge funds and a house-flipping venture, according to the Arizona Corporation Commission. Wohl was also ordered to pay $32,918 in restitution.
Attorney Michael Avenatti, who has called Wohl a "complete fraud" for fabricating allegations against him and Mueller, welcomed Tuesday's news. "Jacob Wohl's account being suspended now makes proactive sense because you are not generally allowed to use one in a federal prison," he said.
Over the past year, Twitter has cracked down on fake accounts and those that spread false information, including those by Alex Jones and his Infowars website. Some conservatives, however, have criticized Twitter for failing to take action against left-leaning accounts.