Twitter CEO Jack Dorsey meets with President Trump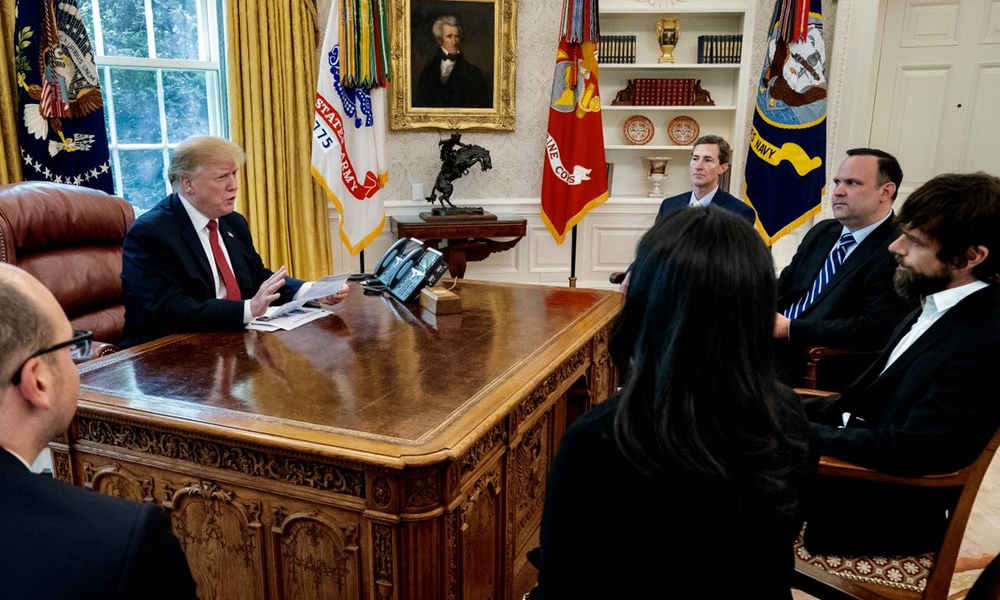 U.S. President Donald Trump and Twitter CEO Jack Dorsey met at the White House on Tuesday to discus public discourse on the social networking website, officials say. Both Trump and Dorsey said their meeting went well.
"Great meeting this afternoon at the White House with Jack from Twitter," Trump said in a tweet. "Lots of subjects discussed regarding their platform, and the world of social media in general. Look forward to keeping an open dialogue!"
In a reply to the president's tweet, Dorsey said: "Thank you for the time. Twitter is here to serve the entire public conversation, and we intend to make it healthier and more civil. Thanks for the discussion about that."
Details about their discussion were not immediately known, but an internal Twitter email said Dorsey and several other executives were meeting Trump to discuss "the health of the public conversation on Twitter."
Over the past year, Twitter has cracked down on fake accounts and those that spread false information, but some conservatives have criticized the company for failing to take action against left-leaning accounts. Just hours before the meeting, Trump hit out against Twitter in a tweet.

"They don't treat me well as a Republican. Very discriminatory, hard for people to sign on," Trump said. "Constantly taking people off list. Big complaints from many people. Different names-over 100 M but should be much higher than that if Twitter wasn't playing their political games. No wonder Congress wants to get involved – and they should."
In an internal email obtained by Vice, Dorsey acknowledged that some of the company's employees might object to his meeting with Trump.
"As you know, I believe that conversation, not silence, bridges gaps and drives towards solutions," Dorsey said. "I have met with every world leader who has extended an invitation to me, and I believe the discussions have been productive, and the outcomes meaningful."