Skydiving plane crashes in Hawaii, killing 11 people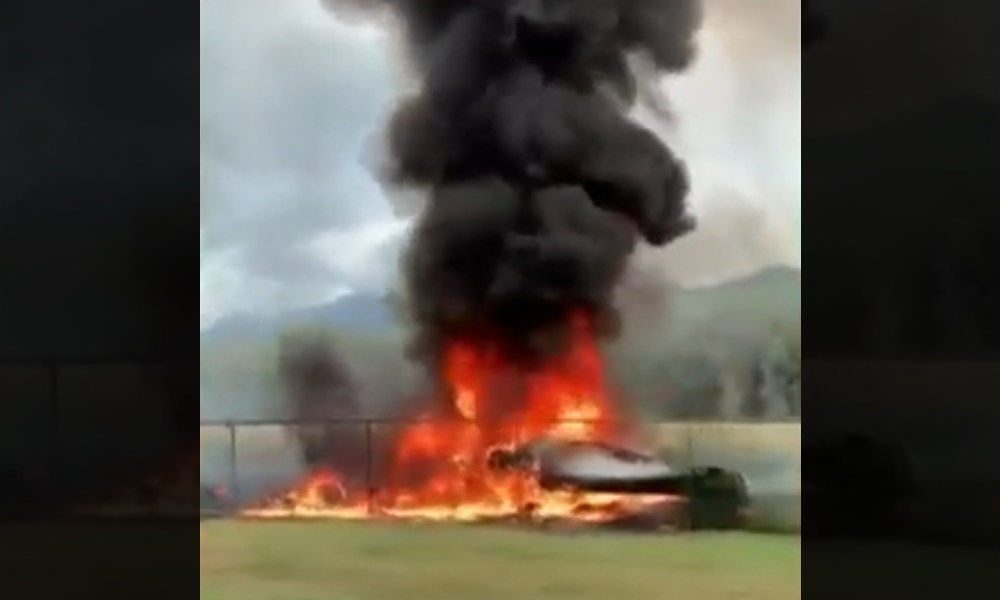 A small plane has crashed on the Hawaiian island of Oahu while taking off for a sunset skydiving flight, killing all eleven people on board, local officials say. It marks the deadliest aviation disaster in Hawaii in nearly three decades.
The accident happened just before 6:30 p.m. on Friday when the twin-engine plane was attempting to take off from Dillingham Airfield on the island's North Shore. The aircraft was operated by the Oahu Parachute Center.
Video from the scene showed that the aircraft had burst into flames and was completely destroyed. Tim Sakahara, a spokesman for the Hawaii Department of Transportation, said a total of 11 people were on board, including customers and employees.
"In my 40 years as a firefighter here in Hawaii, this is the most tragic aircraft incident that we've had," Honolulu Fire Chief Manuel Neves said. He added that a number of family members were waiting at the airport while their relatives took off on the flight.
The victims were booked to go on a Sunset Tandem excursion, during which customers are flown to 14,000 feet (4,270 meters) for 60 seconds of free fall and 4 to 6 minutes of canopy flight. In addition to the pilot, each customer is paired up with a professional skydiver, along with two people who take photos and video.
The cause of Friday's crash was not immediately known. Both the National Transportation Safety Board (NTSB) and the Federal Aviation Administration (FAA) have launched an investigation into the cause of the accident, which involved a Beechcraft BE65 King Air.
The crash marks the deadliest aviation disaster in Hawaii since October 1989, when Aloha IslandAir Flight 1712 crashed into a mountain on the island of Molokai, killing all 20 people on board. Friday's crash was also the deadliest in the United States since July 2017.
#BREAKING — 9 people were killed after a skydiving plane went down tonight at #DillinghamAirfield on #Oahu's North Shore, according to EMS. When firefighters arrived on scene around 6:30 p.m., the plane was engulfed in flames. There are no survivors. pic.twitter.com/esaJOqqWJV

— Mackenzie Stasko (@MackenzieStasko) June 22, 2019