Temperatures in Germany, Belgium and the Netherlands break all-time records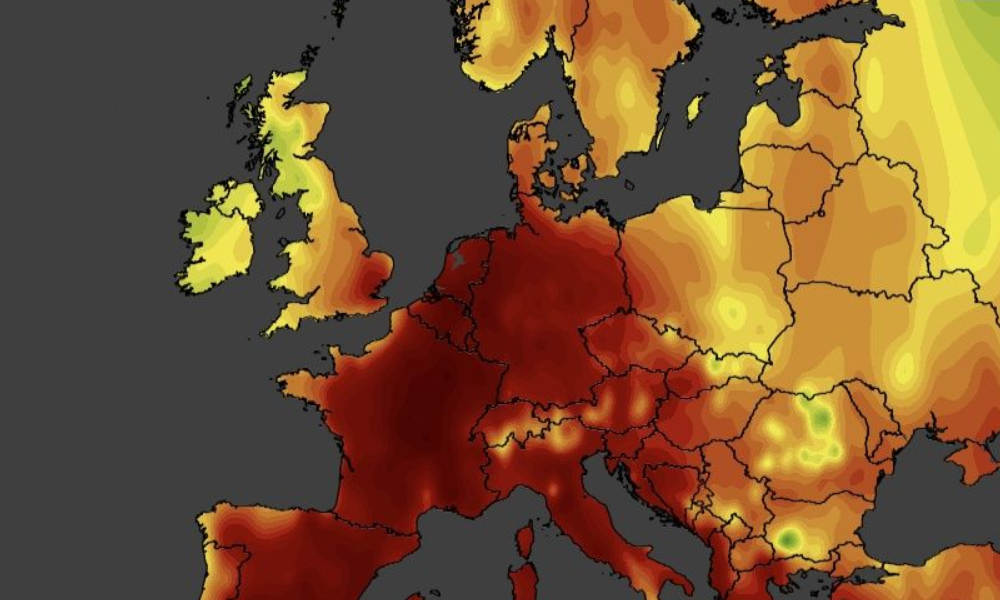 Temperatures in Germany and Belgium exceeded 40 degrees Celsius (104°F) on Wednesday, making it the hottest day on record in both countries, and they could rise even further on Thursday, forecasters say. All-time temperature records were also broken in the Netherlands.
The German Weather Service said the maximum temperature reached 40.5°C (104.9°F) in Geilenkirchen, a town in the western state of North Rhine-Westphalia. It makes it the highest temperature ever recorded in Germany, surpassing the 40.3°C (104.5°F) in Kitzingen in 2015.
In Belgium, the temperature reached 40.2°C (104.36°F) in Angleur in the eastern province of Liege, according to David Dehenauw, a forecaster at the KMI meteorological agency. In the Netherlands, the temperature reached 39.3°C (102.7°F) in Eindhoven, a city in the south.
The temperatures in Germany, Belgium, and the Netherlands were the highest ever recorded in those countries, but forecasters expect that the temperature could risen even further on Thursday afternoon, when all-time records in Luxembourg and England are also at risk.
"Tomorrow it will be a little hotter locally. It's possible that today's record will last only one day," the German Weather Service said.
Parts of Europe are experiencing their second heat wave in as many months, with Thursday expected to be the hottest day of the week. On June 28, the temperature reached 46°C (114.8°F) in Vérargues in southern France, breaking the country's all-time record.
A number of deaths were reported in connection with last month's heat wave, but heat-related deaths are historically under-reported, which means the actual death toll could be significantly higher. The European heat wave in 2003 was blamed for more than 70,000 deaths in 16 countries.
The highest temperature ever recorded in the world was measured in California's Death Valley in July 1913, when the temperature reached 56.7°C (134°F). A temperature of 53.9°C (129°F) was recorded in Kuwait in 2016, making it the world's highest temperature since the 1940s.
Editor's Note: This article was updated on July 25 after a daily review of measurements found that the highest temperature was 40.2°C (104.36°F) in Angleur. Initially, it was reported that the highest temperature was 39.9°C (103.8°F) at Kleine-Brogel in the northern province of Limburg.