Gunman kills 20 in suspected terror attack at Texas Walmart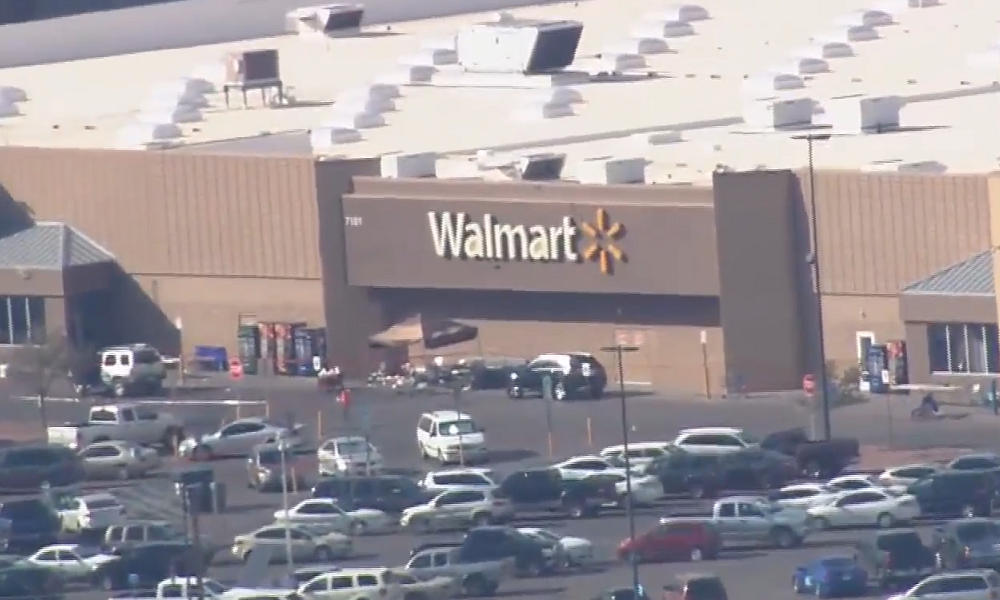 A man who described himself as a white nationalist in an online manifesto has opened fire at a Walmart in El Paso, Texas, killing at least 20 people in one of the worst mass shootings in modern U.S. history, local officials say. He was arrested near the scene.
The incident happened just before 11 a.m. on Saturday when the suspect, who was armed with a semi-automatic rifle, walked into a Walmart Supercenter in El Paso, just outside the Cielo Vista Mall near the border with Mexico. Several thousand people were at the store.
Victims were seen outside the store and at the entrance, where a security camera captured the gunman as he entered the store while wearing earmuff-style hearing protection. Video from a nearby store showed people taking cover as gunshots rang out in the background.
A suspect, identified as 21-year-old Patrick Crusius, was taken into custody near the scene. Records show that he lives a 10-hour drive away in Allen, a city just north of Dallas, about 580 miles (933 kilometers) northeast of El Paso.
Texas Governor Greg Abbott said 20 people were confirmed dead, making it the eighth deadliest mass shooting in modern U.S. history. At least 26 others were taken to area hospitals, where some of them were reportedly in critical condition. A 2-year-old child is among those injured.
A manifesto believed to have been written by Crusius was uploaded to the imageboard website 8chan less than 45 minutes before the shooting. In it, he expressed support for Brenton Tarrant, a white nationalist who opened fire at two mosques in New Zealand in March, killing 51 people.
"This attack is a response to the Hispanic invasion of Texas. They are the instigators, not me. I am simply defending my country from cultural and ethnic replacement brought on by an invasion," the manifesto said. He went on to explain his belief that the U.S. would soon become a one-party state led by the Democratic Party due to a growing Hispanic population.
"I didn't spend much time at all preparing for this attack. Maybe a month, probably less," he said.
After his arrest, Crusius told investigators that he wanted to shoot 'as many Mexicans as possible,' according to ABC News. Mexican President Andres Manuel Lopez Obrador said at least three Mexican nationals were killed in Saturday's attack.
WATCH LIVE: Local TV coverage from KTSM-TV.
Police still looking for shooter. Telling everyone to shelter in place. ⁦@elpasotimes⁩ pic.twitter.com/T3pt8ve5p5

— mark lambie (@LambieMark) August 3, 2019
TEXAS: Active shooter in the area of Hawkins and Gateway East in El Paso. Stay away from the Cielo Vista Mall area. (Source: El Paso Police)

— U.S. Emergency Alert (@ENSAlerts) August 3, 2019