Gunman goes on shooting spree in West Texas; at least 5 dead, 19 injured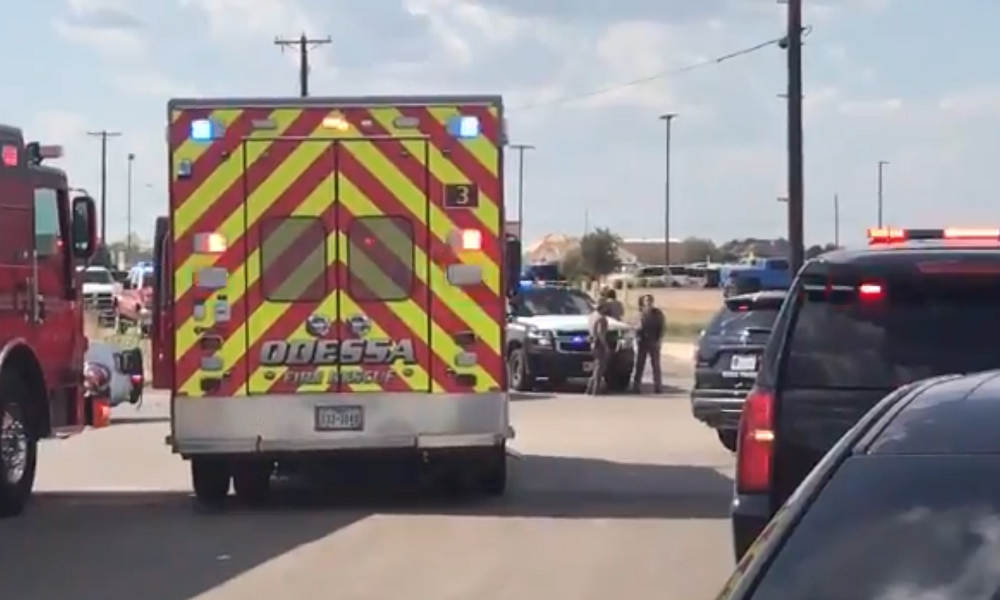 A gunman in a vehicle went on a shooting spree in West Texas, killing at least 5 people and injuring nearly 20 others, local officials and witnesses say. The suspect was killed in a gun battle with police and his motive was not immediately known.
The incident began at about 3:20 p.m. on Saturday when a state trooper attempted to pull over a vehicle on I-20 in Midland, about 257 miles (415 km) east of El Paso. The officer was shot and the suspect drove to neighboring Odessa, where he opened fire at multiple locations, mainly in the area of Home Depot.
Odessa Police Chief Michael Gerke said at a press briefing that at least 24 people were shot, including 21 civilians and 3 law enforcement officers. Five civilians were killed. The suspect, a white man in his mid-30s, was killed in a shootout with police behind the Cinergy movie theater.
Details about a possible motive were not immediately known. Police said the suspect, who at one point hijacked a USPS mail carrier, fired at people at random. One of those injured is a 17-month-old toddler who was shot in the face, police said.
"The First Lady and I are heartbroken over this senseless and cowardly attack, and we offer our unwavering support to the victims, their families, and all the people of Midland and Odessa," Texas Governor Greg Abbott said in a statement.
WATCH: People, including children, drop to the ground while shots are fired in Odessa, Texas; at least 5 dead, 20+ injured pic.twitter.com/UmirErEe58

— BNO News (@BNONews) August 31, 2019
Our @News4SA @KABBFOX29 photographer Paul happened to be in his hometown of Odessa this weekend. Now he's covering breaking news there. Here's a photo he sent us of the hijacked mail van, with bullet holes. pic.twitter.com/ZCghw6vECR

— Emily Baucum (@EmilyBaucum) August 31, 2019
Mass shooting in twin peaks at odessa tx pic.twitter.com/pZlWM6WRGS

— halsey (@mercylizzle16) August 31, 2019