Cargo train derails in Springfield, Ohio, shelter in place lifted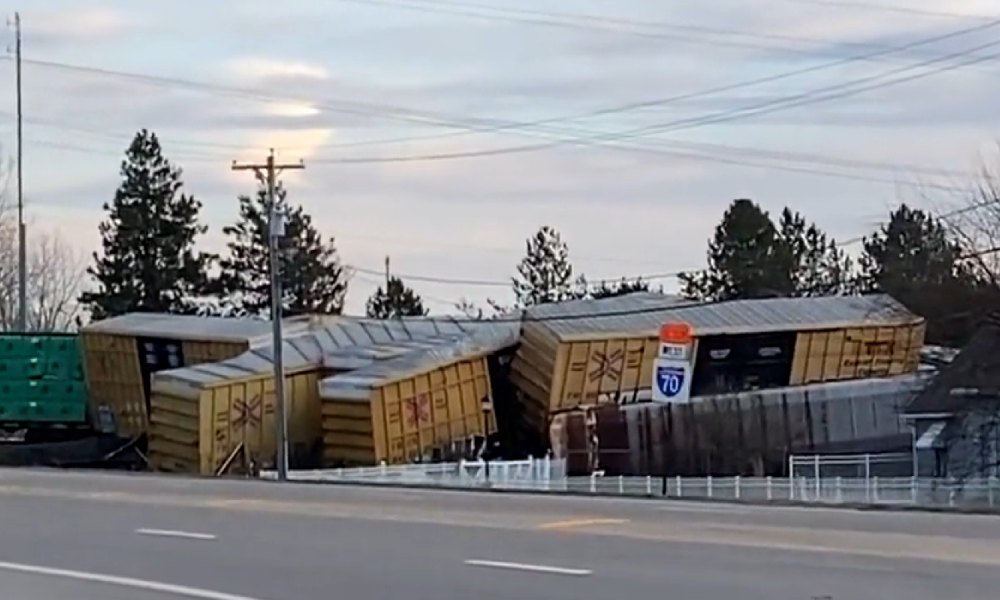 A cargo train has derailed in Springfield, Ohio, knocking down power lines and leaving more than 1,500 homes without power, local officials say. A shelter in place which was issued has since been lifted.
The accident happened at 4:54 p.m. on Saturday when 28 cars of a 212-car freight train derailed at Ohio 41 near the Prime Ohio Business Park in Springfield, about 80 miles northeast of Cincinnati.
It was not immediately known what the train was carrying but Thomas Crosson, a spokesman for Norfolk Southern, said no hazardous materials were involved and that no one was injured.
Despite the statement, the Clark County Emergency Management Agency urged residents within 1,000 feet of the derailment to shelter in place out of an abundance of caution. The advice was lifted just after 2 a.m.
Four tankers were found to contain non-hazardous materials, including residual amounts of diesel exhaust fluid and polyacrylamide water solution. "There is no indication of any injuries or risk to public health at this time," the agency said.
"We're also aware of power outages in the area due to downed power lines," the agency added. More than 1,500 homes in Clark County were affected by the power outage, which continued on Sunday morning.
Ohio Governor Mike DeWine said he received calls from both President Joe Biden and Transportation Secretary Pete Buttigieg to offer help from the federal government.
Railway safety has been the subject of increased debate in the wake of a massive train derailment in East Palestine, Ohio on February 3. No one was killed but the crash released hazardous materials into the air and forced the evacuation of nearby residents.
New dashcam video shows the start of today's train derailment in Springfield, Ohio pic.twitter.com/JQfdHuj5N4

— BNO News Live (@BNODesk) March 5, 2023
Witness video shows the moment a cargo train starts to derail in Springfield, Ohio. Still unknown what the train was carrying pic.twitter.com/Sxsr6XhmAp

— BNO News Live (@BNODesk) March 4, 2023
JUST IN: Cargo train derails in Springfield, Ohio pic.twitter.com/Hx7C74HiJS

— BNO News Live (@BNODesk) March 4, 2023