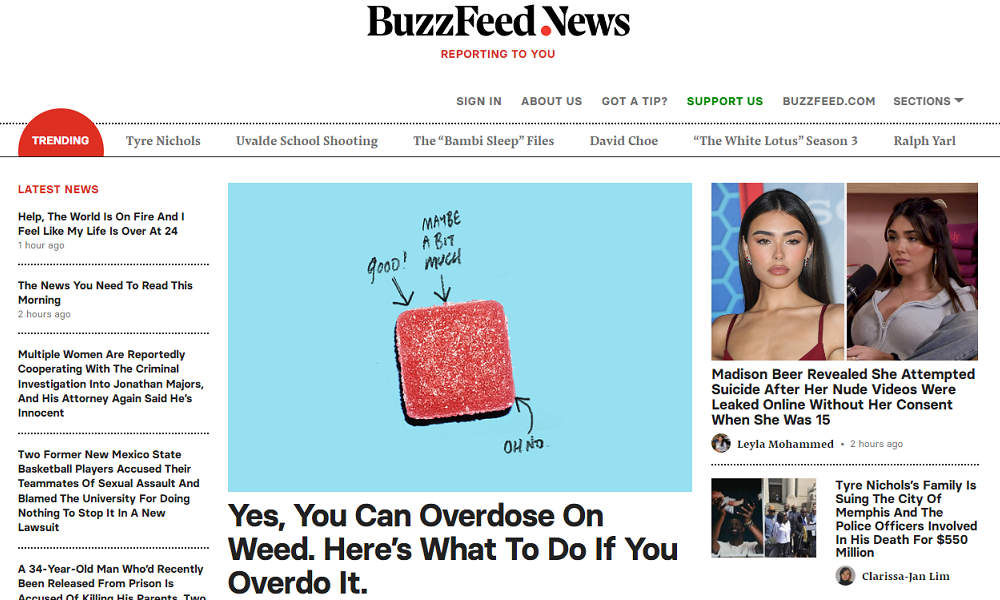 BuzzFeed says it's cutting about 15% of its workforce and shutting down its news division as part of cost-saving measures. Shares of the company dropped by nearly 25% in response to the news.
Jonah Peretti, the co-founder of both BuzzFeed and HuffPost, said BuzzFeed will lay off approximately 180 people, or 15 percent of its workforce, across the Business, Content, Tech and Admin teams.
"While layoffs are occurring across nearly every division, we've determined that the company can no longer continue to fund BuzzFeed News as a standalone organization," Peretti said in an email to employees. "Moving forward, we will have a single news brand in HuffPost, which is profitable."
Peretti said he and his leadership team "could have performed better" during the past few years, when the company faced a number of challenges, including the COVID-19 pandemic, a tough economy and a decelerating digital advertising market.
"I made the decision to overinvest in BuzzFeed News because I love their work and mission so much," he said. "This made me slow to accept that the big platforms wouldn't provide the distribution or financial support required to support premium, free journalism purpose-built for social media."
He added: "More broadly, I regret that I didn't hold the company to higher standards for profitability, to give us the buffer needed to manage through economic and industry downturns and avoid painful days like today. Our mission, our impact on culture, and our audience is what matters most, but we need a stronger business to protect and sustain this important work."
While BuzzFeed is best known for its listicles, quizzes and pop culture articles, the news division has a history of more serious content. Just two years ago, BuzzFeed News won a Pulitzer Prize for articles about China's internment camps.
BuzzFeed News also published the story in which actor Anthony Rapp accused Kevin Spacey of making sexual advances towards him in 1986, when Rapp was just 14 years old. The article, and subsequent allegations, left Spacey's career in ruins.
BuzzFeed News also published the so-called Steele dossier in 2017, which contained unverified and salacious allegations about then-President-elect Donald Trump. The website's decision to publish the dossier was highly controversial.
Also on Thursday, Insider – previously known as Business Insider – announced that it was laying off about 60 employees, or 10% of its workforce, "to keep our company healthy and competitive" in response to economic headwinds.