Freight train derails into river in northwest Montana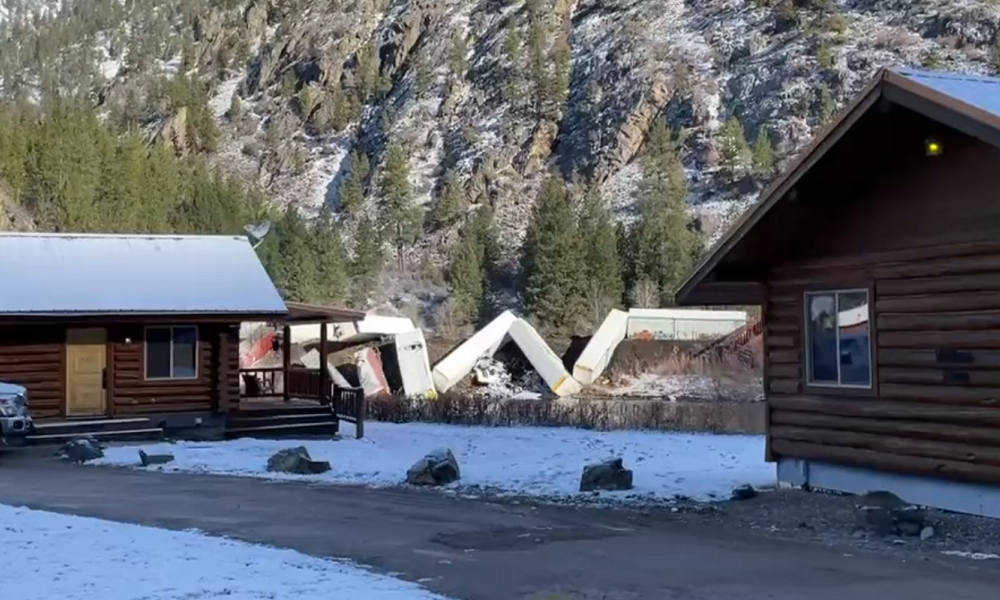 A freight train has derailed in northwest Montana, causing some of the cars to plunge into a river, officials and witnesses say. There were no reports of hazardous materials.
The accident happened at 9:20 a.m. on Sunday when 20 to 25 cars of a freight train derailed across the river from Quinn's Hot Springs on Highway 135, near Paradise in Sanders County.
There is no indication that hazardous materials were on board the train. Most of the cars appeared to be filled with canned food products and clay products, while some were empty, officials said.
A substance which was seen coming from some of the cars is believed to be powdered clay. At least one car was filled with crates of beer, some of which spilled into the river.
While there was no indication of a risk to public safety, Quinn's Hot Springs Resort evacuated some of their river cabins as a precaution. No injuries were reported.
"There are no injuries, no risks to public safety, and no Hazmat release," said Andy Garland, a spokesman for Montana Rail Link. "The cause of the derailment is currently under investigation with MRL personnel and first responders onsite."
It was not immediately known which company operated the cargo train and where it was heading.
"We are committed to addressing any impacts to the area as a result of this accident, prioritizing the safety of our employees and the public, and understanding the reasons for this incident," Garland said.
Several train cars have derailed and landed in the river across from Quinn's Hot Springs in Sanders County. https://t.co/T3rxtis2HX pic.twitter.com/Pxg2SYI0iO

— KPAX Missoula News (@kpaxnews) April 2, 2023
Railway safety has been the subject of increased debate in the wake of a massive train derailment in East Palestine, Ohio on February 3. No one was killed but the crash released hazardous materials into the air and forced the evacuation of nearby residents.
Last month, a cargo train derailed in Springfield, Ohio, knocking down power lines and leaving more than 1,500 homes without power. Nearby residents were under a shelter-in-place warning for hours until hazardous materials were ruled out.
And last week, a runaway freight train derailed in San Bernardino County, California.
WATCH: Freight train derails in northwest Montana. No reports of hazardous materials pic.twitter.com/9roYvHqG6R

— BNO News Live (@BNODesk) April 2, 2023