Twitter briefly suspends feel-good account Buitengebieden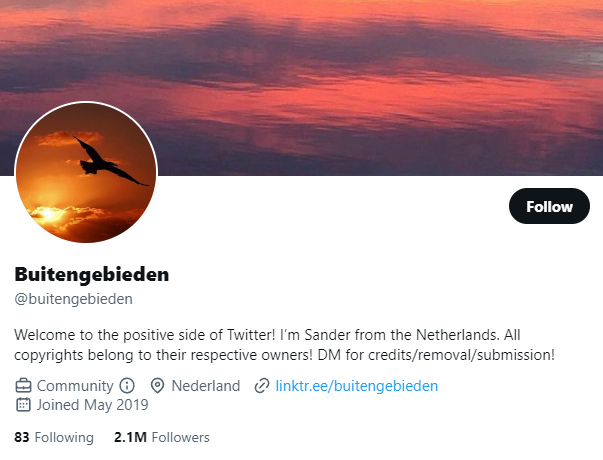 Buitengebieden, a Twitter account with more than two million followers which is known for sharing daily videos of animals and children, was suspended on Wednesday. It was reinstated by Thursday morning.
Sander van den Berg, a 42-year-old man from the Netherlands, said his account was taken down on Wednesday afternoon after a copyright claim from a major record label.
"My account on Twitter is suspended because music (in videos) isn't allowed there," he said. "Instagram and TikTok for example pay the music industry to let their users post videos with music, but Twitter refuses to do this."
The @Buitengebieden Twitter account calls itself "the positive side of Twitter" and has more than 2.1 million followers. Some creators have criticized the account for posting photos and videos without credit or permission.
The suspension immediately triggered a backlash from its followers.
"The best account on Twitter is gone," former basketball player and social media influencer Rex Chapman said in a tweet with more than 5 million views. "Sander does nothing but put out good vibes and love. This is dumb."
'Star Wars' actor Mark Hamill also commented on the suspension.
"@buitengebieden is one of the most heartwarming, wholesome, uplifting and joyful accounts on Twitter," he said. "Now I have to say 'was'. Our access to cute animal videos has plummeted."
The account was reinstated on early Thursday morning with no further explanation.
"I don't have words for what happened yesterday here and in the media after I was suspended," Van den Berg said in a tweet. "I really want to thank every single person who helped to this! It's only because of you I'm back."
Van den Berg also plans to continue posting on other platforms, including Instagram, Mastodon, TikTok, Post and Spoutible.