Nabi Tajima, last known survivor of the 19th century, dead at 117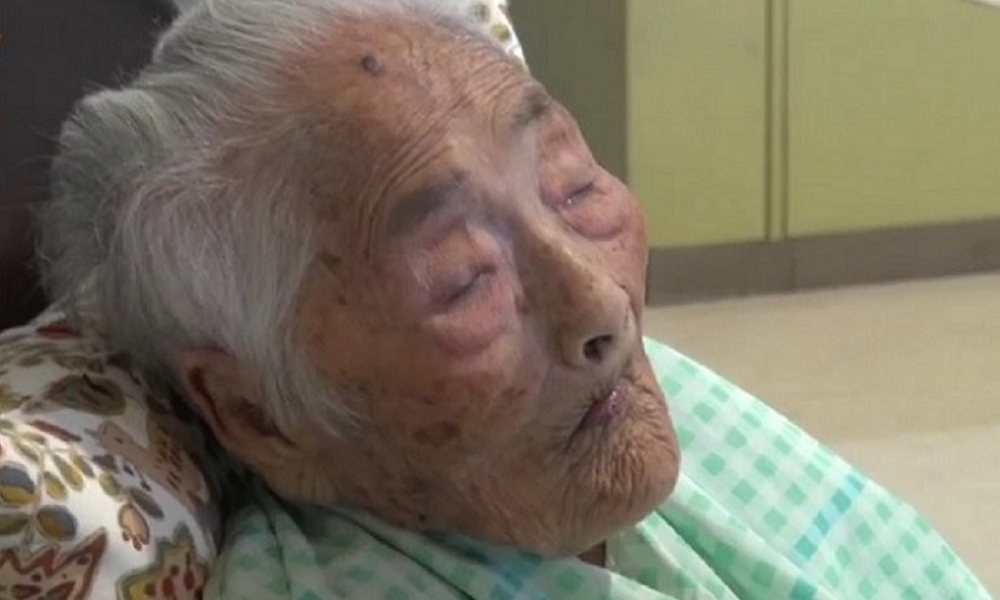 Japanese woman Nabi Tajima, the last surviving child of the 19th century and the 3rd oldest person in recorded human history, has died, her family says. She was 117 years old.
Tajima passed away at 8 p.m. local time on Saturday at a hospital on the Japanese island of Kikaijima, where she lived all of her life. She died of natural causes, a relative said.
Tajima was born in a village on Kikaijima on August 4, 1900. She had 9 children and more than 160 descendants, including great-great-great-grandchildren, according to the Gerontology Research Group (GRG), which verified her date of birth.
At the time of her death, Tajima was 117 years and 280 days old, making her the third oldest person in recorded human history. She said that her secret to longevity was eating delicious things and sleeping well, but she also enjoyed hand-dancing to the sound of the shamisen.
Tajima was born at a time when Emperor Meiji ruled Japan as the nation rose from an isolationist feudal state to become a world power. William McKinley served as president of the United States and Victoria was the Queen of the United Kingdom. The world's population was just 1.6 billion.
During her lifetime, the world went through a period of rapid development that included great advances in communication and medicine. Tajima lived through the introduction of cars, airplanes, radio technology, television, spacecraft, modern computers, the internet, and the mobile phone.
But the world also went through major conflicts, some of which affected Japan. Tens of thousands of Japanese were killed during the Russo-Japanese War from 1904 until 1905 and at least 129,000 Japanese were killed when the U.S. detonated nuclear weapons over Hiroshima and Nagasaki during World War Two.
The bombings in 1945 forced the empire to surrender, which led to the Allied occupation and resulted in significant changes for the Japanese people. Women received the right to vote and were able to participate in the general election in 1946.
Japan also suffered major disasters during Tajima's life. A powerful earthquake struck Japan's mainland in 1923, killing at least 105,000 people. The flu pandemic in 1918 sickened 23 million people in Japan alone, including 390,000 people who died.
With the death of Tajima, the world's oldest living person is now Chiyo Miyako, another Japanese woman who is due to turn 117 on May 2. It makes her the ninth oldest person in recorded history, but she could move to the eighth place on May 30.
The oldest undisputed person to have ever lived was Jeanne Calment who died in France in 1997 at the age of 122 years and 164 days. Other people have claimed to be older, but those claims have never been verified with official documentation and other supporting evidence.
Jiroemon Kimura, who died in Japan in June 2013 at the age of 116 years and 54 days, was the world's oldest verified male in recorded history, according to Guinness World Records. The current oldest living man is 112-year-old Masazou Nonaka, who is also from Japan.