Scores feared dead after dam breaks in Brazil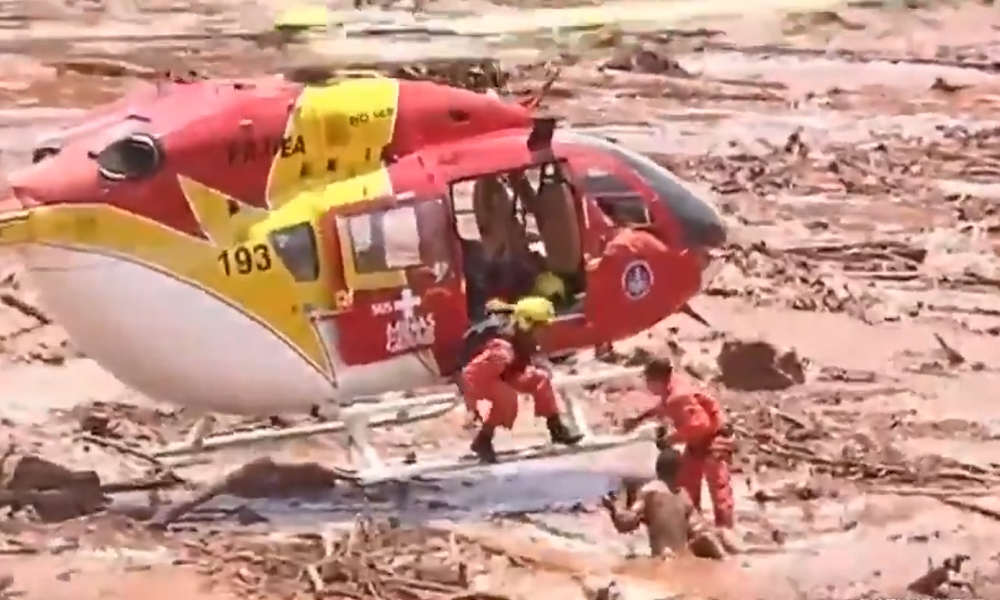 A dam has failed at an iron ore mine in southeastern Brazil, unleashing a massive mudflow that buried the mining site and reached a nearby community, local officials say. At least 9 people were killed.
The incident happened on early Friday afternoon when a tailings dam holding mining waste failed in Brumadinho, a town in the state of Minas Gerais, about 30 kilometers (19 miles) southwest of Belo Horizonte.
The Vale mining company, which operates the mine and owns the dam, confirmed in a statement that a breach had occurred, causing a mudflow that hit the work site and parts of the nearby community.
Footage shown on local television showed that cars, trucks, buildings, and a cargo train were buried by the devastating mudflow. A number of people were rescued by helicopter.
Officials said on Friday night that 9 bodies were recovered, but the death toll is expected to rise as more than 300 people remain unaccounted-for. At least 9 survivors were taken to area hospitals for treatment.
BREAKING: Dam breaks in southeast Brazil, causing an unknown number of casualties https://t.co/oqt9yV3gpm pic.twitter.com/7aOXavjm2B

— BNO News (@BNONews) January 25, 2019
O #BalançoGeralMG está ao vivo com imagens da barragem que rompeu em Brumadinho, na Grande BH. Acompanhe conosco mais informações! pic.twitter.com/r8rqfRG5uX

— Record TV Minas (@recordtvminas) January 25, 2019
O tamanho da destruição em #Brumadinho ?? Prefeitura emitiu alerta para que a população se mantenha longe do leito do Rio Paraopeba. Defesa Civil orientou moradores de bairros proximos a deixarem suas casas #RompimentoVale pic.twitter.com/DHQE91QIlU

— Cecília Olliveira (@Cecillia) January 25, 2019
Barragem Vale Feijao rompeu, restaurante foi completamente coberto, em pleno horário de almoço ? pic.twitter.com/Y4mYZx6x0M

— VOCE SABE QUEM ! (@stam_pn) January 25, 2019