Fire breaks out at the Notre Dame cathedral in Paris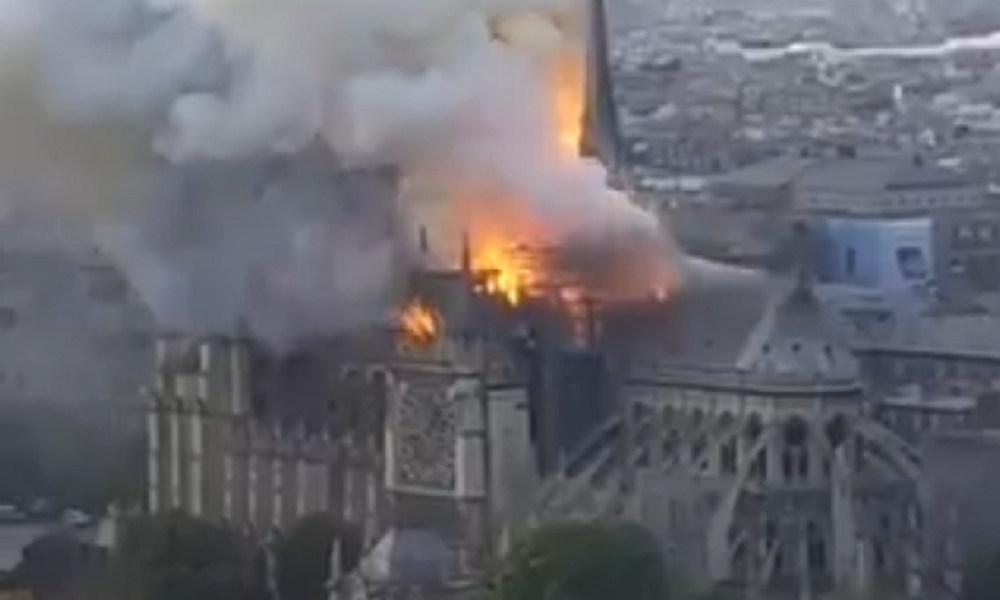 A large fire has erupted at the Notre-Dame Cathedral in Paris, causing massive damage at the centuries-old landmark, officials and witnesses say. The main spire and a part of the roof have completely collapsed.
The blaze began at 6:50 p.m. on Monday and is concentrated on the roof near the bell towers, where renovation work was underway. A part of the roof collapsed and the fire spread to the main spire, causing it to collapse about an hour later.
Hundreds of firefighters were called to the scene as large crowds gathered in the surrounding area to watch the fire, which was brought under control by 2 a.m. on Tuesday. Areas close to the cathedral have been evacuated.
Paris Deputy Mayor Emmanuel Gregoire said the building suffered "colossal damages," but city officials believe the main structure has been saved from total destruction. Artwork which was stored at the cathedral has been secured.
French President Emmanuel Macron, who was due to address the nation on Monday night, canceled his speech and traveled to the scene of the fire. Talking to reporters, he pledged to rebuild Notre Dame and said he will be seeking international help to do so.
"Our Lady of Paris is in flames. Great emotion for the whole nation. Our thoughts go out to all Catholics and to the French people," Macron said on Twitter. "Like all of my fellow citizens, I am sad to see this part of us burn tonight."
To watch French TV coverage in English, click here for a live stream.
Images effroyables de #NotreDame pic.twitter.com/h0sfpo9Vjp

— Maxime Ruszniewski (@MaxRusz) April 15, 2019
#NotreDame pic.twitter.com/T0gMxABugC

— Cédric Herpson????? (@herpsonc) April 15, 2019
▫️#NotreDame▫️Soutien total aux @PompiersParis en lutte contre un effroyable incendie au sommet de notre patrimoine. Courage et détermination pour sauver @notredameparis . pic.twitter.com/SidBZ7rjg2

— Sapeurs-pompiers 06 (@sdis_06) April 15, 2019
The moment #NotreDame's spire fell pic.twitter.com/XUcr6Iob0b

— Patrick Galey (@patrickgaley) April 15, 2019
(Photo: Francois Guillot/AFP/Getty Images) pic.twitter.com/MDb9pQr5cJ

— Colin Campbell (@colincampbell) April 15, 2019
The view of the Notre Dame fire from the Eiffel Tower pic.twitter.com/IdufR9OqFT

— Lahav Harkov (@LahavHarkov) April 15, 2019
This is the moment that the the Flèche or Spire of the Cathedral fellhttps://t.co/xsmxG6IpAM pic.twitter.com/c5jgPDes8s

— euronews (@euronews) April 15, 2019