Gas line explosion destroys homes in London, Ontario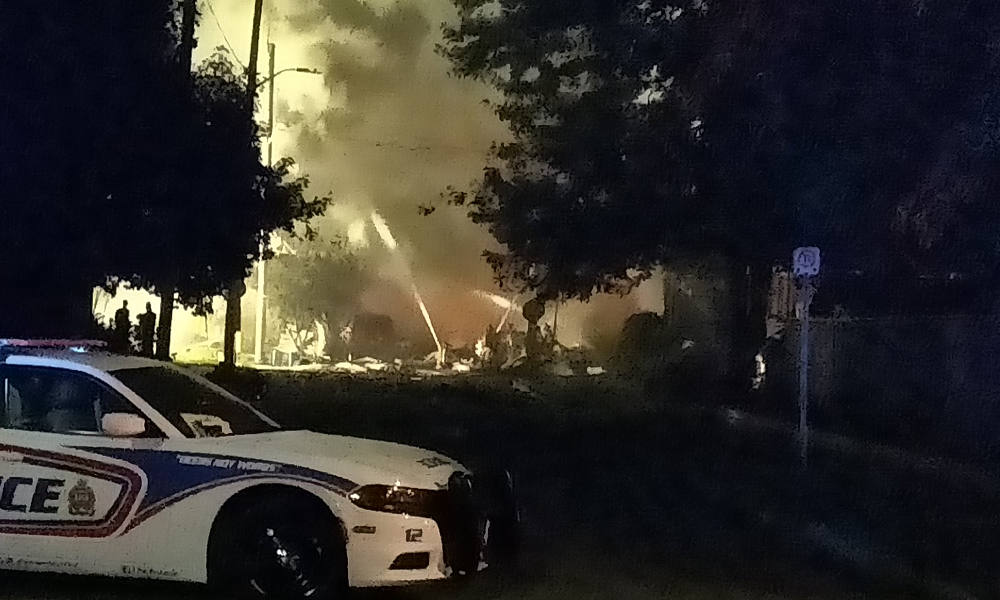 A vehicle has crashed into a home in London, Ontario, causing a gas line explosion that set multiple buildings on fire, local officials and witnesses say. The driver was taken into custody and four police officers and firefighters were taken to hospital.
The incident happened at about 10:50 p.m. on Wednesday at a home on Woodman Avenue in the city's Old East Village. The blast was felt and heard across parts of London, residents said, and a plume of smoke was billowing from the scene.
Police spokeswoman Shayna Boland said officers were called just before 11 p.m. in regards to a vehicle which had crashed into a home on Woodman Avenue. The circumstances of the crash were not immediately known, but the female driver was taken into custody.
While officers were at the scene, a large explosion occurred, setting multiple homes on fire and sending debris into the neighborhood. Two police officers and two firefighters were taken to hospital with non-life threatening injuries. The explosion is believed to have been caused by a gas line, Boland said.
Former City Councillor Roger Caranci was at the scene and said there was "debris everywhere" after the explosion. "One house gone, another on fire and can't see the one to the south of the collapsed home," he said.
As a precaution, homes within a one-block radius have been evacuated and nearby streets are closed. "There's significant debris that's down there on the road and in the general area, up to a block away," London Deputy Fire Chief Jack Burt said.
BREAKING: Cellphone video of chaotic scene on Woodman Ave in Old East Village after a car hits a house, triggering fire & explosion. #LdnOnt #OEV pic.twitter.com/3V05ylZTPL

— Daryl Newcombe (@DNewcombeCTV) August 15, 2019
It's quite an incredible scene here in Old East Village. Police say a car drove into a home and caused an explosion. Neighbours say other homes have since exploded, possibly as many as five. #ldnont pic.twitter.com/CMA6rX3s5f

— Kate Dubinski (@KateDubinski) August 15, 2019
House on Woodman exploded #ldnont pic.twitter.com/3hhyfycrOc

— Zuke (@dukeofducks) August 15, 2019
#London #Ontario #Canada Felt the impact of the explosion all the way in 700 King Street. View from balcony. Scary stuff. Prayers for the first responders.. pic.twitter.com/gnbX0OUrxd

— Tasneem (@tasneem_n) August 15, 2019
Fire following explosion in East London pic.twitter.com/hfKn8EUrVg

— Kahli (@kahliann) August 15, 2019