39 bodies found in truck container in southeast England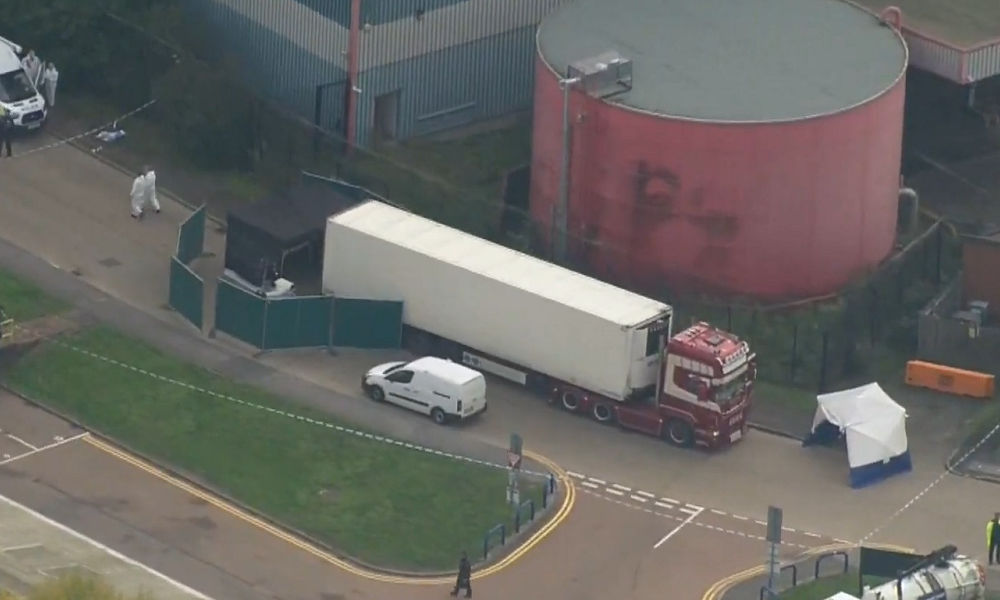 British police have found the bodies of nearly 40 people inside a truck container at an industrial estate near London, officials say. The vehicle is believed to have come from Bulgaria but the nationalities of the victims were not immediately known.
Police were called just before 1:40 a.m. on Wednesday when the ambulance service reported that people had been found in the back of a large cargo truck at Waterglade Industrial Park in Grays, a town about 27 kilometers (17 miles) southeast of London.
"Emergency services attended but sadly all 39 people inside the container had died," Essex Police Deputy Chief Constable Pippa Mills told reporters. "Early indications suggest that one of these people was a teenager, the rest are believed to be adults."
The truck driver, a 25-year-old man from Northern Ireland, was arrested on suspicion of murder and remained in custody on Wednesday afternoon. Mills said the truck is believed to have come from Bulgaria and entered the United Kingdom through Holyhead, a coastal town in Wales, on Saturday.
There was no immediate word on why the ambulance service was called to the truck in the first place or how the victims may have died. "At this stage we have not identified where the victims are from or their identities, and we anticipate that this could be a lengthy process," Mills said.
"This is an absolute tragedy and very sad day for Essex Police and the local community. We will continue to work alongside many other partner agencies to find out what led to these deaths," Mills added. Anyone with concern about loved ones can call the Casualty Bureau by calling 0800 056 0944, or 0207 158 0010 for those who are calling from outside the UK.
While Mills declined to speculate on the circumstances of the incident, the area's member of parliament referred to human trafficking and called it "sickening" news. "People trafficking is a vile and dangerous business," Jackie Doyle-Price said. "Let's hope they bring these murderers to justice."
A number of similar incidents have happened in the past.
An abandoned truck with the bodies of 71 migrants, including four children, was found alongside a highway in Austria in October 2015. And in June 2000, 58 Chinese migrants suffocated to death in the back of a truck at the Port of Dover in southeast England.