Mexican Air Force plane crashes near airport, killing 6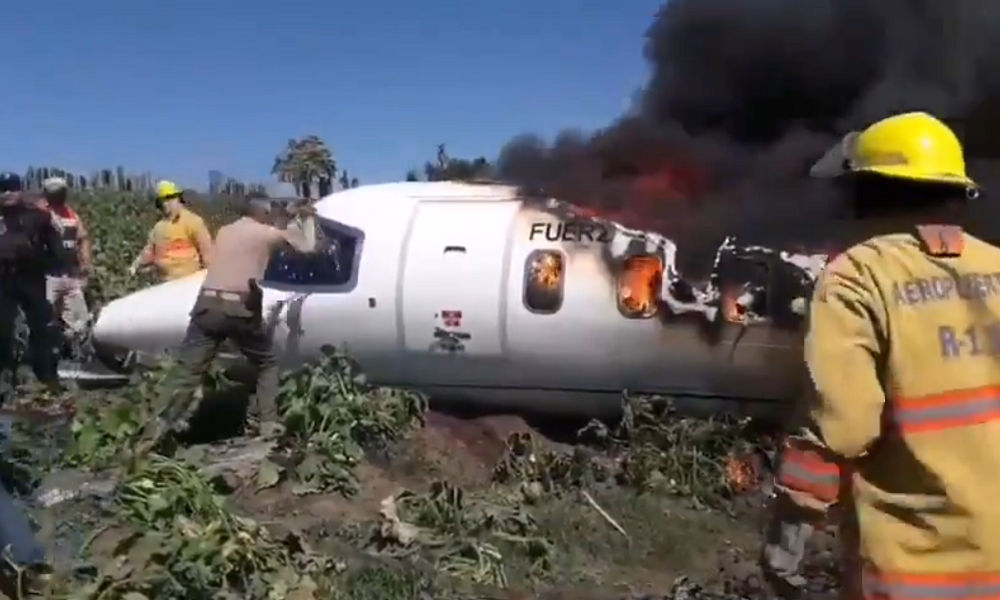 A Mexican Air Force plane burst into flames Sunday as it crashed near an airport in the eastern state of Veracruz, killing all six people on board, local officials said. The cause of the crash was not immediately known.
The accident happened at around 9:45 a.m. on Sunday when the Learjet 45XR was taking off from El Lencero Airport in Emiliano Zapata, close to the city of Xalapa.
Most of the plane, except for the cockpit and tail, was destroyed when it came down in a field near the airport. Video from the scene showed rescue workers trying to break the windows of the cockpit to find any survivors.
Mexico's Defense Ministry said in a statement that six service members were killed in the crash, including the pilot and co-pilot. The cause of Sunday's accident was not immediately known.
Data from FlightAware showed that the aircraft had flown from Mexico City to Xalapa on early Sunday morning, but rescue workers said it was taking off for Villahermosa in Tabasco at the time of the crash.
Dramatic video shows rescue operation of Mexican Air Force Learjet following landing accident at El Lencero Airport in Mexico. https://t.co/I9PCFU5crD pic.twitter.com/lXUXM7gyFD

— Breaking Aviation News & Videos (@breakingavnews) February 21, 2021
#Ampliación Se desploma aeronave de la Fuerza Aérea Mexicana en Xalapa, Veracruz https://t.co/5rTCFeI2YH pic.twitter.com/RsFqDYb5Lg

— Joaquín López-Dóriga (@lopezdoriga) February 21, 2021